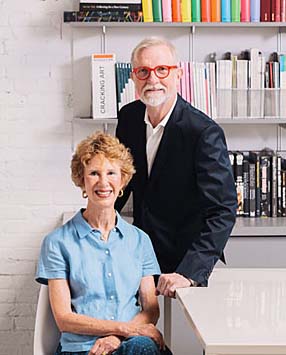 LOUISVILLE, Ky. (Feb. 20, 2018) — 21c Museum Hotels, a multi-venue contemporary art museum and hotel management company, announced today that co-founder Steve Wilson has retired as chairman. Wilson founded the company with his wife, Laura Lee Brown, in 2006.
"I'm retiring just one week after my 70th birthday," said Steve Wilson. "I think it's fairly traditional to retire at 65, but we were just getting started with 21c then, and I've never really been known to follow the traditional path, anyway.
"My wife, Laura Lee, and I created 21c, never expecting that one hotel in our hometown would grow into a large corporate hotel management company, with eight or more properties, over 75,000 square feet dedicated to showing the work of artists living today, and over 1,000 employees, all of whom have been integral to the company's success.
"Upon reflection, I recognize that I thrive when I'm creating. That said, I have come to realize that I need some time to rejuvenate and nurture my creative spirit. I have other projects and interests I'd like to pursue. I feel extremely proud of what we have created with the help of our leadership team, all of whom are well prepared to continue to move the company forward."
The other members of 21c's Senior Leadership Team have been working together since 2010 and, together, have overseen the openings of six of the seven 21c Museum Hotel locations, as well as Garage Bar. This team will continue to lead the company and includes: Craig Greenberg, president & CEO; Chett Abramson, chief operating officer; Sarah Robbins, chief hospitality officer; Molly Swyers, chief brand officer; Phillip Allen, chief development officer and general counsel; and Alice Gray Stites, museum director and chief curator.
21c's Board of Directors has begun the process to appoint a new chairperson in the near future.