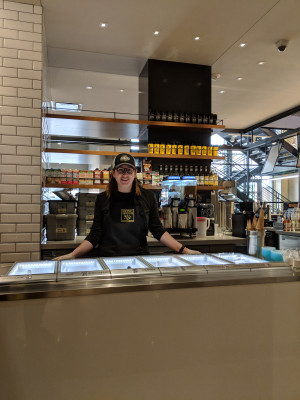 LOUISVILLE, Ky. (March 7, 2018) — Heine Brothers' Coffee, Louisville's original fair trade and organic coffee roaster, announced today that the company will hold a grand opening celebration on March 9 for its new Omni Hotel location at 400 S. 2nd Street.
Beginning at 6 a.m., the first 400 customers will receive an exclusive Heine Brothers' + Omni Louisville reusable mug filled with special offers.
At 9 a.m. Mayor Fischer will be on hand to officially cut the ribbon as Heine Brothers' opens its 15th store and becomes part of the Omni's Falls City Market, a 20,000 s.f. urban market and food hall including grocery, brick oven pizza, florist, wine & spirits and more. The Louisville Free Public Library will also be bringing their pop-up library to the store from 9 a.m. until noon.
"We are thrilled to be partnering with the Omni on their Louisville hotel," said Mike Mays, co-founder and president of Heine Brothers' Coffee. "Including a Heine Brothers' Coffee Shop next to their Falls City Market is a testament to the Omni's commitment to connecting with and celebrating Louisville. The entire project is going to make a big impact on our city."
The Heine Brothers' Omni shop opened on March 6. The store serves seven days a week from 6 a.m. to 8 p.m.