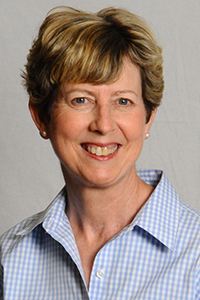 DANVILLE, Ky. (March 9, 2018) — Patti Powell, president of Stuart Powell Ford-Lincoln-Mazda, has been named to the Farmers National Bank Board of Directors.
A Danville native and resident, Powell has worked in the automotive industry for nearly 30 years and is a graduate of the National Automobile Dealers Association Dealer Academy. She had previously served on the bank's Boyle County Community Board.
"We are very pleased to add Patti to an already strong board," said Greg Caudill, CEO of Farmers National Bank. "She brings a solid business background, and a deep knowledge and commitment to our community. We look forward to her continued contributions to our organization."
Powell attended Danville High School and graduated from Texas Christian University with a bachelor of fine arts in advertising/design. She has been active with several local organizations including the Danville-Boyle County Chamber of Commerce, Boyle County Industrial Foundation, Danville-Boyle County Airport, Danville-Boyle County Humane Society, and Pioneer Vocational Industries. She is also a member of the Advocate Brass Band.
Other Farmers National Bank Board members include: John C. Albright (Caldwell Stone Company); Dr. Louis M. Beto (Beto & Bogardus, PLLC); Robert I. Caldwell (Central Seal Company); Greg W. Caudill (Chief Executive Officer); Logan H. Germann (Businessman); J. Martin "Marty" Gibson (President); Hugh Gates Hines, III (Businessman & Farmer); J. Douglas Little (Little Oil Company); H. Vincent Pennington, III (Attorney at Law); John B. Rodes (Kerbaugh, Rodes & Butler, PLLC); Jacob Tamme (Businessman); and Jeffrey J. Thornton (Retired Banker).
Farmers National Bank, a community owned bank since 1879, has banking facilities in Danville, Burgin, Harrodsburg, Junction City, Lancaster, Perryville and Stanford.