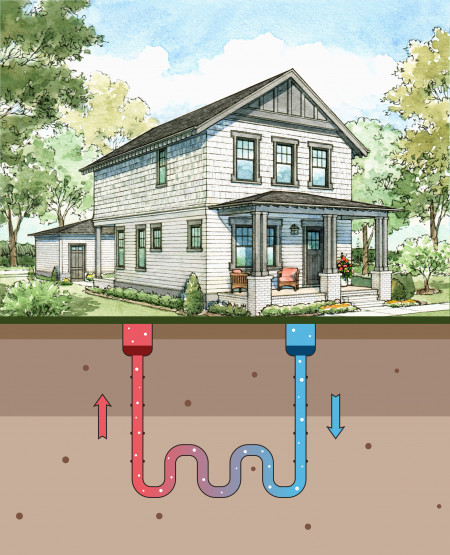 PROSPECT, Ky. (March 15, 2018) — It's full steam ahead (quite literally) for Norton Commons, the growing New Urbanist development in northeast Louisville, as the community charges forward with its mission to create one of the largest all geothermal communities in the nation.
Two-hundred homes in the community's North Village are now heated and cooled using state-of-the-art technology which harnesses energy produced beneath the earth's surface.
Another 50 geothermal homes are currently under construction and 50 are in planning stages. When completed, Norton Commons' North Village will stand at over 1,500, and will be one of the largest residential all geothermal communities in the nation, alongside innovative developments like Whisper Valley in Austin, Texas and Pinewood Forest in Fayetteville, Ga.
Norton Commons completed the first geothermal home in Dec. of 2015.
Geothermal technology takes advantage of moderate ground temperatures to create an efficient system that lowers monthly utility bills while emitting less carbon dioxide, carbon monoxide, or other greenhouse gases into the atmosphere. Geothermal heating and cooling eliminates the need for outdoor air conditioning units and reduces noise, while allowing for more space for residents to enjoy the outdoors. A network of underground geothermal loops and efficiently-sized heat pump units inside each home provide homeowners with the most comfortable heating and cooling systems available on the market today.
"Geothermal has been a huge hit. It offers energy savings and brings additional home comfort to residents," said Norton Commons managing director, Charles A. Osborn III. "It's all part of our purposeful design, which includes 160 acres of planned green and civic spaces, miles of nature trails, a rose garden as well as our community vegetable garden and wildflower meadow."
The federal budget deal that passed last month brought good news for geothermal homeowners and homebuyers. The Residential Renewable Energy Tax Credit, which expired at the end of 2016, was reinstated and extended by the new deal after it was signed into law by the President. A tax credit means a dollar-for-dollar reduction of tax liability for units put into service after Jan. 1, 2017, through 2021.
Norton Commons Elementary in the North Village, the first new-build school for Jefferson County Public Schools since 2008, incorporates eco-friendly geothermal heating and cooling as well as other eco-friendly features like solar-heated water, a reflective white roof and LED lights with motion sensors.
For further details visit: nortoncommons.com.