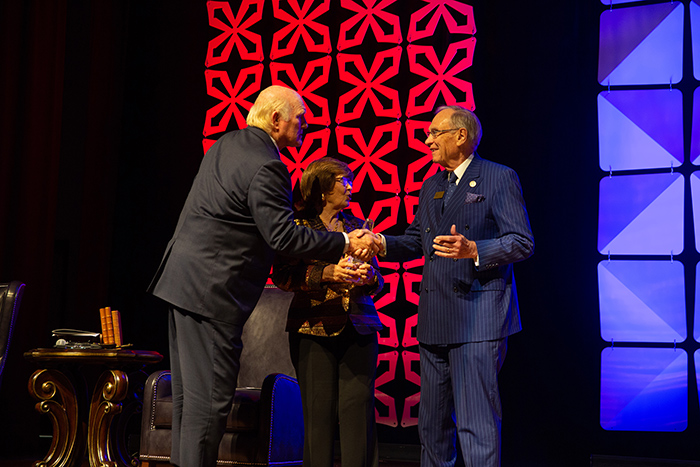 WILLIAMSBURG, Ky. (April 16, 2018) – University of the Cumberlands recently hosted its 13th annual Excellence in Leadership Event, sponsored by Forcht Group of Kentucky. At the event, Terry and Marion Forcht were honored with this year's Excellence in Leadership Award in recognition of their philanthropy, service and leadership.
"University of the Cumberlands was honored to present to Drs. Terry and Marion Forcht this award for their selfless acts of kindness and for modeling true servant leadership," said Dr. Larry Cockrum, president of Cumberlands. "Over the 13 years they have sponsored the Forcht Leadership Series, they have seen several individuals receive awards. We wanted to recognize them for all they do to help people. They serve as role models for our students and continually give back to those around them."
The Forchts have lived in the area since 1964, when Dr. Terry Forcht served as chairman of the Commerce Department at Cumberlands. He soon began his own law practice in Corbin and founded Forcht Group of Kentucky. Today, he has garnered numerous leadership awards and is responsible for a family of companies that employ over 2,200.
Dr. Marion Forcht is the owner and president of Forcht Insurance Agency in Corbin and is an active member on multiple boards and committees. She is also an honorary trustee at Cumberlands. Together, the Forchts have impacted Kentucky for years through their leadership, businesses and generous donations to organizations across the Commonwealth.
The 13th annual Excellence in Leadership Event featured former Pittsburgh Steelers quarterback Terry Bradshaw. Bradshaw is in the NFL's Hall of Fame, a four-time Super Bowl champion, author, singer and television personality. In his speech, Bradshaw discussed how happiness, humility, hard work and his relationship with the Lord have made him the leader he is today.
"For everyone, there is a calling. The Bible says be still, listen and God will speak," said Bradshaw. "What was it about me that separated me from everybody else? Nothing. I just worked hard, and I got my break. I knew there was a purpose in my life."
Nearly 2,000 people attended the event, including a number of local government leaders and community members, as well as Cumberlands employees and students.
"We are extremely grateful to The Forcht Group of Kentucky for sponsoring this event," said Dr. Cockrum. "These annual events host speakers recognized for their character and leadership. These outstanding speakers assist Cumberlands in honoring others, who through their own good citizenship, character and success serve as role models to our students and community."