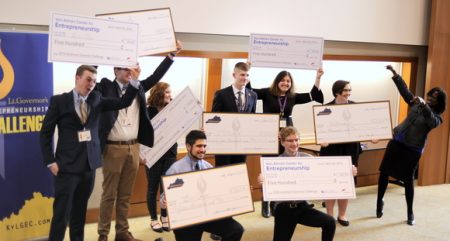 FRANKFORT, Ky. (May 1, 2018) — Bluegrass VR from Marshall County High School won the top prize at the 2nd annual Lt. Gov.'s Entrepreneurship Challenge finals, held April 28 at the University of Kentucky's Gatton School of Business. 
Advised by Lisa Devillez, Bluegrass VR team members Claire Harmon and Daniel Sills each won $25,000 in scholarship funds to be used at any in-state post-secondary school or program.
Lt. Gov. Jenean Hampton was delighted with all the presentations delivered. "Congratulations to the exceptional winners of this year's contest. Writing and pitching a business plan is not easy, and I'm proud of all the students who accepted the challenge," Hampton said.
Bluegrass VR pitched a unique idea for a non-profit company to develop a QR code driven phone app, working in tandem with the Kentucky Historical Society, to increase both user knowledge as well as tourism to the over 2,000 notable sites in the commonwealth.
Scholarships and additional prizes were also awarded to teams in 2nd place – I.R.M.A.N. – South Warren High School; 3rd place – Bio-Char -Tates Creek High School and 4th place – Hubana – North Laurel High School.
UK President Eli Capilouto viewed the final pitches and encouraged the students to persevere, no matter the obstacles, and to invest in those coming behind them.
UK's Gatton School of Business Von Allmen Center for Entrepreneurship provided $500 checks to each of the top 4 teams to present to their schools for use in developing their approved business/entrepreneurship programs.
Union College and Asbury University provided the top team with additional scholarships if they choose to enroll at their schools.
University of Pikeville awarded 2nd place team I.R.M.A.N. its Healthcare Product Pitch Award that includes a visit to their Bio-Medical Research Laboratory and guidance from clinical and biomedical faculty on their product. The Governor's School for Entrepreneurs also awarded winners spots at their three week summer program.
"Kentucky Science and Technology Corporation is pleased to again partner with the Lt. Governor Hampton and the more than 750 high school students from across the commonwealth who participated in this year's premier high school entrepreneurial event. The broad-based skills they built through this experience provides a great foundation for their future and for Kentucky's future" said Terry Samuel, president of KSTC.
Sponsors and partners for LGEC included KSTC, Kentucky Innovation Network, GlowTouch Technologies, Alltech, Goss Samford Attorneys at Law, KY Touchstone Energy Cooperatives, Beam Suntory, AT&T, BB&T, LGE-KU, St. Elizabeth Healthcare, Governor's School for Entrepreneurs, UPS and Xooker.
This year's judge panel included Mark Erwin, co-founder of Mark's Feed Store Bar B-Q; Purna Veer, founder and president of V-Soft Consulting; Cordelia Harbut, executive director of the KY Commission on Women; Matthew Hollenkamp, VP of St. Elizabeth Healthcare and Patrick Becka, VP of product development at GlowTouch Technologies.
The 3rd annual Lt. Gov.'s Entrepreneurship Challenge will begin this fall with an initial registration deadline of Oct. 31, 2018. For more information on the LGEC please visit www.kylgec.com.