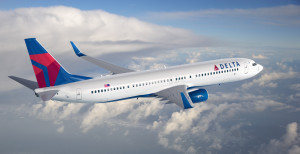 ERLANGER, Ky. (May 1, 2018) – Delta Air Lines and CVG celebrated the launch of new nonstop service to Austin, Texas with a ribbon cutting for the inaugural flight.
Delta's new service to Austin will operate daily except Saturdays using Bombardier CRJ-700 aircraft with nine first class and 60 economy seats. Flights depart Sunday through Friday at 9:45 a.m. arriving in Austin at 11:30 a.m. Returning flights depart Austin at 12:05 p.m. arriving at CVG at 3:44 p.m.
Austin becomes Delta's 36th nonstop destination from CVG and continues Delta's growth at the Cincinnati/Northern Kentucky airport. During the past two years, Delta has increased capacity by 12 percent via new markets, added frequencies and introduced numerous product improvements.