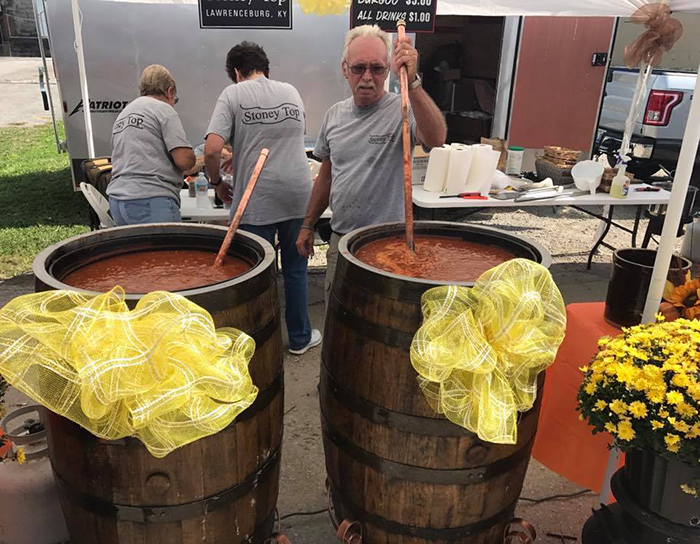 Odd title for a column, right? I mean, where in the world would you be likely to find such alliterative fun, all in one place? Well, that would be a mere 12 miles south of our state's capital city…in Lawrenceburg. With a population of just over 10,000, this Bluegrass town – known as the Burgoo Capital of the World – boasts two major distilleries on the Kentucky Bourbon Trail, two wineries and the only bungee business of its kind on the East Coast.
Let's start with that Kentucky specialty, burgoo. The old joke was that you put "everything that didn't make it across the road" in a big cauldron outdoors over a fire and cooked it for a few days till it was edible. But according to Diane Wells, president of the Anderson County Burgoo Festival (andersoncountyburgoo.com), theirs is a thick, tasty stew of beef, potatoes, limas, onions and carrots. This year's celebration, scheduled for Sept. 28-30, is the 25th annual event and you can expect a motorcycle show, burgoo cook-off, burgoo-eating contest, ugly lamp contest, live music and a beauty pageant.
Next is Lawrenceburg's bourbon connection. And quite an important one it is.
---
Sign up for The Lane Report business newsletter. Receive breaking Kentucky business news and updates daily. Click here to sign up
---
Jimmy Russell – dubbed the "Buddha of Bourbon" by his industry peers – has been making bourbon at Wild Turkey (wildturkeybourbon.com) for an amazing 60 years. His son Eddie joined him 35 years ago and the two are now co-master distillers. Two years ago, Academy Award-winning actor Matthew McConaughey signed on as Wild Turkey's creative director.
On a tour that takes visitors high on a hill overlooking the Kentucky River, you can learn the history of this world-famous distillery and how bourbon is made, smell that "angel share" in the air, wander past barrels of aging bourbon, then sip a bit of bourbon. Longbranch is a new collaboration between the younger Russell and McConaughey that's made with two filtrations, one with American white oak and the other with Texas mesquite.
Next on the Bourbon Trail is Four Roses Distillery (fourrosesbourbon.com). Celebrating its 130th anniversary, it's known for its Spanish mission-style architecture (circa 1910), a slew of industry awards and a history that dates back to the 1860s. When the brand's founder, Paul Jones Jr., fell for a beautiful Southern belle, he asked for her hand in marriage. She replied that if her answer were "yes," she'd wear roses to the grand ball. Happily for him, she arrived sporting a corsage of four red roses on her gown. He named his bourbon for his love.
At Four Roses visitors can see, taste and feel the distillation process. And, of course, have a taste of the good stuff.
If you're more a fan of the state's fruit of the vine, you're in luck. Set in the scenic rolling hills of Central Kentucky, Lovers Leap Vineyards and Winery (loversleapwine.com) is a working vineyard set on a 60-acre farm, 33 acres of which are grapes with 10 varietals, a bottling facility, meeting rooms, a spacious tasting room and 180-degree deck overlooking it all. Here you can experience the entire winemaking process from vine to bottle on a tour, sipping as you learn.
Nearby Rising Sons Home Farm Winery (risingsonswinery.com) is located on a 45-acre, family-run farm and has 10 acres of grapes with seven varietals, with winemaking that reflects the family's 100-year-old Italian heritage. In addition to tours and tastings, Rising Sons also offers canvas painting and pottery painting events.
Catch a taste of Rising Sons at the Kentucky Derby WineFest May 2 on the Belvedere in Louisville.
If you're looking for an extreme sport experience, Vertigo Bungee (vertigobungee.net) is your ticket. The company owns the Young's High Bridge spanning the Kentucky River in Anderson County and offers three-day weekend jump opportunities from mid-May through October. You may want to swig a bit of bourbon first for courage.
And, it turns out Lawrenceburg actually features more "B's" than those listed above.
Stone Fence Tours, a company dedicated to spreading the word about Kentucky's rich and fascinating history, offers a Bourbon Baron Tour (stonefencestours.com) twice monthly from May through October. This heritage tour introduces two young Irishmen, James and John Ripy, who years ago relocated to the cliffs of the Kentucky River and began the Ripy Brothers' Distillery, which morphed into the current Wild Turkey facility. A Ripy descendant will lead you through the beautiful, 11,000-s.f. Ripy Mansion. You'll stroll down Lawrenceburg's "whiskey row" to learn of other prominent distillers of the era, and end up at a tour and tasting at Wild Turkey.
For a palate cleanser, stop by Bauer's Candies (bauerscandy.com) for a treat. Home of the famous caramel-marshmallow Modjeskas, Bauer's candy line can be viewed through a showroom window, where you can watch these luscious confections – named for a for a 1890s-era Polish actress – being hand-dipped and hand-wrapped. Current owner Anna Bauer is a fourth-generation candy maker whose great-grandfather in 1889 began making the caramel biscuits that became Modjeskas. No doubt some will follow you home.
On an odder note, betcha didn't know that Anderson County has had more reported sightings of Bigfoot than any other Kentucky county. To celebrate that distinguished statistic, Lawrenceburg presents Wildman Days (wildmandays.com), featuring celebrity guests, entertainment and of course, lots of food to make your feet grow. This year's event is scheduled for June 1-3.
Way bigger than Bigfoot, the "World's Longest Yard Sale" (127sale.com) stretches 690 miles from Hudson, Mich., to Gadsden, Ala., passing right through Lawrenceburg. The 127 Sale is slated for the first Thursday in August through the following Sunday.
Find more info at visitlawrenceburgky.com or (502) 598-3127.
---
Katherine Tandy Brown is a correspondent for The Lane Report. She can be reached at [email protected]