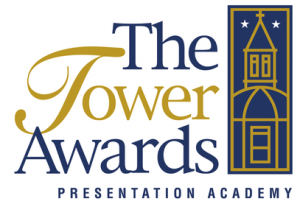 (June 7, 2018) – Presentation Academy will honor the recipients of its 2018 Tower Awards during an annual awards dinner at 6 p.m. on Thursday, Oct. 18, 2018 in the ballroom of the Louisville Marriott Downtown, 280 West Jefferson Street.
Now in its 23rd year, the Tower Awards is an annual mission-driven event honoring women leaders in their fields and highlighting the contributions and talents of these role models to Presentation Academy students and the Kentuckiana community. For the first time in the program's history, the Tower Awards will honor a male, who will be presented with a Lifetime Achievement Award.
"The selection committee chose Gary Householder H' 15 as the first male recipient of the Tower Awards for Women Leaders due to his undeniable support for young women in expressing and achieving their hopes and dreams, his mentoring relationships and ongoing communications with the alumnae, and his cultivation of strong leadership skills in women," says Barbara Wine '67, Principal at Presentation Academy. "It is often said among many that he has been one of the most influential teachers at Pres, and is therefore most deserving of this recognition."
The 2018 Tower Award recipients are as follows:
Arts & Communication
Elmer Lucille Allen, Ceramic/Fiber Artist and Retired Chemist
Business Technology & Trade
Leigh Pittman, Global IT Leader, Brown-Forman Corporation
Education
Valerie Mattingly Casey '73, director of the Women's Center, University of Louisville
Government & Law
Amy Hess, Special agent in charge, FBI
Science & Healthcare
Dana Allen '75, senior vice president and chief marketing and communications officer, Norton Healthcare
Service & Advocacy
Stacey Spencer '88, founder and owner of Teen Tyme Productions, Inc.
Lifetime Achievement Award
Gary Householder H'15, a long-standing educator at Presentation Academy
The Tower Awards serves as a catalyst to open the doors for all young women to experience a Presentation Academy education. All proceeds from this fundraiser go to the school's tuition assistance program, and since inception, this event has raised over $2.5 million.