By Russ Brown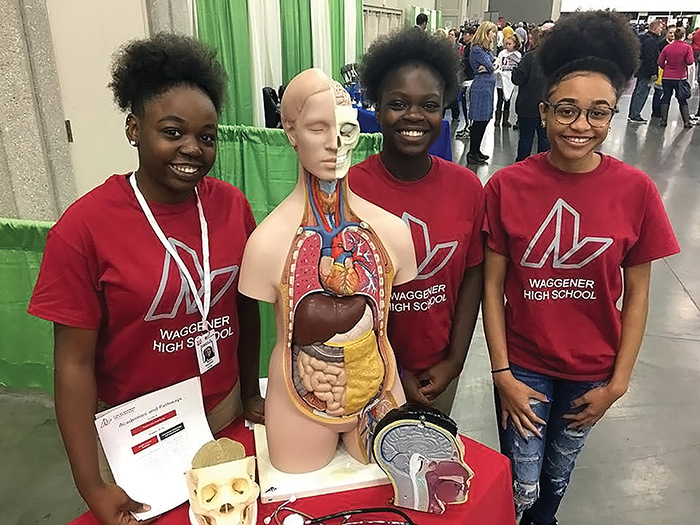 When Christi Rogers became director of college career readiness for Jefferson County Public Schools two years ago to launch a new program, she expected it to be popular, but it's safe to say she didn't anticipate its explosive growth in such a short time.

The program is The Academies of Louisville, an initiative to transform how JCPS high schools prepare students for 21st-century jobs. An early, limited version of the program without a name was operational for several years at Jeffersontown High School, put in place by then-principal now JCPS Superintendent Marty Pollio.
Rogers, who calls the model "non-magnet, wall-to-wall career academies," invited all 16 nonmagnet JCPS high schools to take part in the academies.
"We were expecting a few and we got 11," she said. "It was amazing and there was so much excitement from our business partners. The excitement, commitment and overwhelming support of our community leaders and partners has been very gratifying."
The academies' two primary sponsors have been Ford Motor Co., as part of its Ford Next Generation Learning (NGL), and Greater Louisville Inc. (GLI), the Metro Chamber of Commerce.
"Employers want skilled and ready talent out of high school as soon as they can get them," says Deana Epperly Karem, GLI's vice president for regional economic growth. "The Academies of Louisville offer students opportunities to build relationships with employers during their high school career, while they learn a skill set or trade. This program is an investment in the future workforce of Greater Louisville, making us more competitive in attracting new jobs and growing our economy."
The program has 42 business partners, including GE Appliances, Norton Healthcare, Oxmoor Auto Group and the Building Industry of Greater Louisville. As is practical, they bring current commercial practice, ideas and operations to students first hand.
"What happens in our classrooms today impacts what happens in our world tomorrow," Pollio said. "The academy model connects participating schools to committed business partners and links what students learn in the classroom to real-world experience so that all academy graduates are prepared for college career and life, and ready to compete in a global economy."
Rogers said 13,000 students are involved in the academies with a total of 144 career pathways, 291 have received industry certification, and 2,200 have job shadowed or taken higher-level field trips.
"Our goal is that students graduate with college credits, industry credentials or work experience and a postsecondary plan that pipelines them to a career or apprenticeship," Rogers said. "We're striving for real adult, big-boy credentials, real-world credentials. It's a very deliberate pace to develop a backpack of skills and work experience."
A small sampling of the many professions in which instruction is offered by the academies to address employment needs in the Louisville area are manufacturing, engineering, internet technology (IT), healthcare and business.
"I can't think of a sector that isn't engaged and thriving," Rogers said. "There is such great need (for skilled workers) out there. It's hard to keep up, it's moving so fast. We have engagement across the board in all industries. This is a total transformation of public education, very innovative."
Although there are other similar programs in the country, JCPS has one of the most widespread.
At Norton Healthcare, Christy Ralston, director of workforce development, and Jackie Beard, system director of talent acquisition and workforce development, believe the academies will definitely start paying dividends for employers.
"We're fortunate to be on the front end of this new program and help develop some of the curriculum with what the needs are going to be when they get into the business world," Beard said.
A leader in the area when it comes to putting people in the right fields is KentuckianaWorks, which placed more than 1,400 people in new roles last year at an average wage of $35,426, creating an annual payroll of $49.8 million.
KentuckianaWorks helps job seekers find jobs and good careers, education and training, and assists employers in meeting their workforce needs. KentuckianaWorks helps run Code Louisville, SummerWorks, the Kentucky Manufacturing Career Center and the Kentucky Health Career Center.
"KentuckianaWorks is an integral partner at determining what the community needs and making sure we put our resources in the right place," Ralston said.
A primary sector facing an employee shortage in Kentucky is the tech industry, where workers with hands-on skills in coding and other digital technology are needed. KentuckianaWorks got a major boost in late March when Google added a $100,000 sponsorship to assist in expanding its local skills program. Michael Gritton, KentuckianaWorks' executive director, said the organization was tentatively considering deploying some of the money to enhance an existing applied digital skills program and  Google Developers training that centers on creating apps.
Another major resource for workforce development is the Kentucky Federation for Advanced Manufacturing Education (KY FAME) program, whose rapidly growing Greater Louisville and Lincoln Trail chapters feed workers into the employment pipeline locally.
KY FAME, which started a decade ago in Central Kentucky based on a national model, helps employers collaborate with postsecondary educational institutions to grow their own talent. It now is a statewide partnership with more than 200 member participant companies.
After high school, students who want to continue their education have no reason to leave the metro area because it offers a wide variety of opportunities on both sides of the river, both private and public. Thirty regional colleges and universities offer 868 degrees.
The University of Louisville is the largest, but others in Greater Louisville and Southern Indiana include Bellarmine University, Spalding University, Indiana University Southeast and Ivy Tech.
Louisville Mayor Greg Fischer launched the Degrees Work program to work with companies and organizations to encourage their employees to complete a degree.
As part of that initiative, a program called Count Me In was created to provide a framework for engaging community support to help achieve the ambitious goal of 55,000 additional college degrees by 2020.
Last December, the 55,000 Degrees initiative partnered with KentuckianaWorks and GLI to host the Tomorrow's Talent summit.