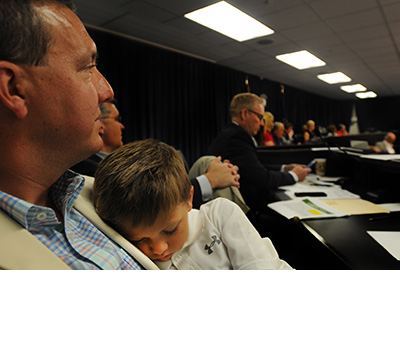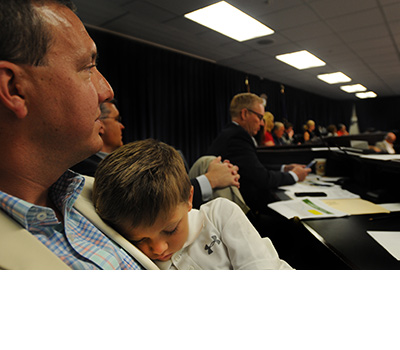 FRANKFORT, Ky. (July 6, 2018) — Most new laws approved during the Kentucky General Assembly's 2018 session will go into effect on Saturday, July 14.
That means drivers will soon be required to leave at least three feet of space between their vehicles and cyclists they pass. Children under the age of 17 will not be allowed to get married. And penalties will get tougher for those who post sexually explicit images online without the consent of the person depicted.
The Kentucky Constitution specifies that new laws take effect 90 days after the adjournment of the legislature unless they have a special effective date, are general appropriations measures, or include an emergency clause that makes them effective immediately upon becoming law. Final adjournment of the 2018 Regular Session was on April 14, making July 14 the effective date for most bills.
Laws taking effect that day include measures on the following topics:
Abstinence Education. Senate Bill 71 will require the inclusion of abstinence education in any human sexuality or sexually transmitted diseases curriculum in Kentucky high schools.
Bicycle safety. House Bill 33 will require drivers to keep their vehicles at least three feet away from bicyclists during an attempt to pass. If that much space isn't available, drivers must use reasonable caution when passing cyclists.
Breweries. House Bill 136 will increase what breweries can sell onsite to three cases and two kegs per customer. The new law will also allow breweries to sell one case per customer at fairs and festivals in wet jurisdictions.
Dyslexia. House Bill 187 will require the state Department of Education to make a "dyslexia toolkit" available to school districts to help them identify and instruct students who display characteristics of dyslexia.
Financial literacy. House Bill 132 will require Kentucky high school students to pass a financial literacy course before graduating.
Foster Care and Adoption. House Bill 1 will take steps to reform the state's foster care and adoption system to ensure that a child's time in foster care is limited and that children are returned to family whenever possible. It will expand the definition of blood relative for child placement and ensure that children in foster care are reunified with family or placed in another permanent home in a timely manner.
Organ donation. House Bill 84 will require coroners or medical examiners to release identifying and other relevant information about a deceased person to Kentucky Organ Donor Affiliates if the person's wish to be an organ donor is known and the body is suitable for medical transplant or therapy.
Police cameras. House Bill 373 will exempt some police body camera footage from being publicly released. It will exempt the footage from certain situations being released if it shows the interior of private homes, medical facilities, women's shelters and jails or shows a dead body, evidence of sexual assault, nude bodies and children.
Prescription medicines. Senate Bill 6 will require pharmacists to provide information about safely disposing of certain prescription medicines, such as opiates and amphetamines.
Price gouging. Senate Bill 160 will clarify laws that prevent price gouging during emergencies. The bill specifies that fines could be imposed if retailers abruptly increase the price of goods more than 10 percent when the governor declares a state of emergency.
Revenge porn. House Bill 71 will increase penalties for posting sexually explicit images online without the consent of the person depicted. The crime would be a misdemeanor for the first offense and felony for subsequent offenses. Penalties would be even more severe if the images were posted for profit.
Teen marriage. Senate Bill 48 will prohibit anyone under the age of 17 from marrying. It will also require a district judge to approve the marriage of any 17-year-old.
Terrorism. Senate Bill 57 will allow a person injured by an act of terrorism to file a claim for damages against the terrorist in state court.