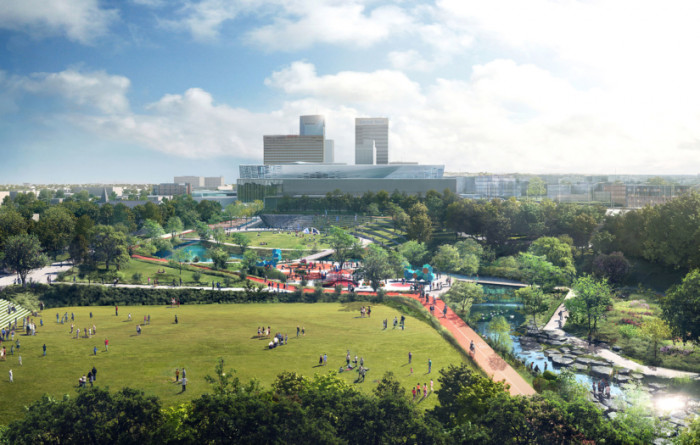 LEXINGTON, Ky. (July 10, 2018) – It's a gift that has been almost 40 years in the making – this morning Mayor Jim Gray and Picnic with the Pops Commission President Kip Cornett announced that funds that have been accumulating in Picnic with the Pops coffers since the early 80s will be given to Town Branch Park for an amphitheater – $1.2 million.
"The proceeds from decades of food, and fun, and music will fund a new home for Picnic with the Pops," Gray said. "Thousands of people who have enjoyed this favorite Lexington tradition will be making a contribution to a permanent home for it, an amphitheater downtown in Town Branch Park."
The decision to devote Picnic with the Pops proceeds to the construction of an amphitheater that would become its permanent home was made in the event's early days. "We are so fortunate that our founders, as well as our patrons, have put us in position to make this transformational moment possible," Cornett said. "Great cities not only have great parks – but they are home to great events that can be enjoyed by everyone in the community."
Town Branch Park will be on a 10-acre site adjacent to the recently approved expansion of Rupp Arena and Lexington Center. When completed in 2022, the signature park will contain green space, water features, a dog park and a "Great Lawn" area that will be anchored by a performance amphitheater with space to host up to 5,000 patrons.
"Town Branch Park is going to be a sensation and a destination with gravitational pull," Gray said. So far, the excitement around the privately funded park has attracted $6 million in private gifts.
"Town Branch Park will be designed so residents and visitors have access to all types of art," said Ann Bakhaus, Town Branch Park Advisory Board Chair. "This exciting investment creates a tremendous opportunity for outdoor performing arts as a focal point for the park and for the entire community."
Picnic with the Pops began almost 40 years ago, guided by then Mayor Jim Amato, Tom Minter, former Lexington Center Director and President of the Picnic with the Pops Commission for many years, and the Lexington Philharmonic. Since then it has sold out almost every year. Every August patrons enjoy music, the great outdoors, and the hard fought table decorating competition.
Town Branch Park is part of Town Branch Commons, which includes the park and trails. The trail follows along the path of Lexington's original water source (Town Branch) through downtown. Town Branch Commons links the City's two main trails, Town Branch Trail and the Legacy Trail, giving Lexington 22 miles of uninterrupted bike and pedestrian paths, and connecting downtown to the rural landscape.