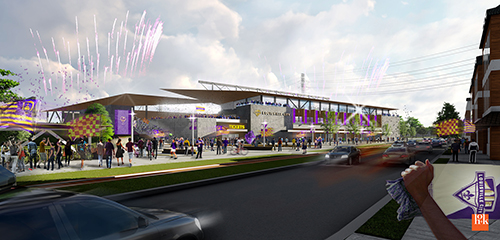 LOUISVILLE (July 17, 2018) – Having broken ground on the Butchertown stadium development, Louisville City Football Club today announced an agreement to terms for the last component of stadium financing, giving City all the pieces it needs to make the stadium venue a reality.
Fifth Third Bank will lead the syndication of the $55 million facility, and Middleton Reutlinger will serve as counsel to City. The transaction is expected to close in August, allowing the project to remain on its construction schedule.
"Fifth Third Bank is proud to assist as part of the LouCity process for the Butchertown stadium development," said Mike Ash, Fifth Third Bank regional president, Kentucky. "Louisville City FC is building something special in our city and we are proud to help them serve the community in this way."
All the funding for the 11,300-seat facility is borne by the Louisville City FC ownership, with a targeted opening date of March 2020. Louisville City secured $21.7 million in TIF financing at the end of May, which will flow back to the club as revenue as it generates incremental taxes in the district. The TIF was a key component to obtaining the bank financing, as it will help service the debt for the stadium.
"LouCity is proud to partner with Fifth Third Bank, an institution with a strong reputation for community involvement," said Brad Estes, LouCity Executive VP. "We can't thank Louisville Metro and the Commonwealth enough, as none of this would be possible without their help. This is legacy work that will leave a permanent impression on our City, and we can't wait to get started."
Construction on the development is set to begin in August 2018.