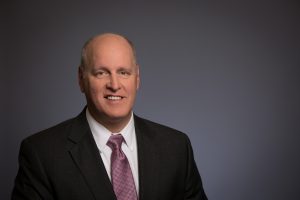 LOUISVILLE, Ky. (July 23, 2018) – The executive vice president and chief transformation officer of one of the country's top performing healthcare systems has been named chief operating officer (COO) at Baptist Health.
Patrick Falvey will begin work on Tuesday, Sept. 4. Falvey comes from Advocate Aurora Health in Milwaukee, Wisc., the 10th largest not-for-profit, integrated healthcare system in the country, serving about three million patients a year. He served in numerous operational executive roles for Aurora Health Care (and the recently formed Advocate Aurora Health) since 1992. Aurora was Wisconsin's largest private employer and healthcare system.
"Patrick Falvey brings the right skills to the table at the right time," said CEO Gerard Colman. "He will be a key member of our leadership team as we continue our focus on providing excellent patient care in the face of rapid changes in healthcare. "
"I am honored and privileged to serve as Baptist Health's chief operating officer and I look forward to working with our Baptist Health presidents, their respective boards, employees and physicians to continue to make Baptist the best place for patients to receive care, physicians to practice medicine and employees to work," said Falvey.
During his 26-year career with Aurora, Falvey tackled increasingly challenging positions, rising from productivity improvement coordinator to his first vice presidency in just nine years. His executive roles included clinical research, Chief Integration Officer, overseeing regional operations and integration and shared services before moving to the Executive Vice President and Chief Transformation Officer role at Aurora in 2015.
The 52-year-old has a deep background in operations, quality improvement, patient safety/disease management, care management, clinical research, service quality, information technology, strategy and healthcare measurement.
During his years at Aurora, Falvey's key accomplishments include having the facilities under his leadership achieve top marks in hospital quality and productivity while making improvements to services, and redesigning the clinical research departments.