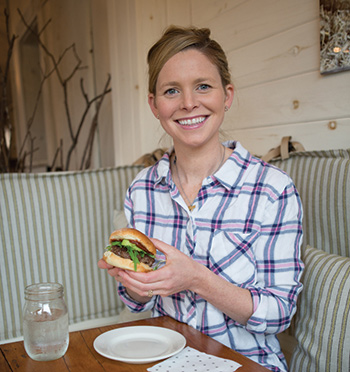 By Abby Laub
Not many 33-year-olds can say they make a living as a farmer, but Maggie Keith is making her Crestwood-based farm a well-run business for years to come. Keith, who said she probably would be working in the fashion industry if she wasn't farming, is a fourth generation land steward of Foxhollow Farm along with her two brothers.
Her great-great aunt purchased the 1,300-acre farm in the 1930s. It was passed down through the generations of her family, and today employs 10 people. Keith, who lives on the property with her husband and toddler son, is taking the reins and creating some new services to move it into the future.
It began in 2006.
"My mom and I have worked side by side since 2006 to convert the farm from a three-crop rotation farm to a biodynamic farm community raising grassfed beef," said Keith, who grew up visiting her grandparents at Foxhollow and playing on the farm.
This year, the farm's grassfed beef operation is launching a delivery service that ships its beef to customers nationwide, allowing busy customers convenience, premiere flavor and the opportunity to support a family farm.
Foxhollow also hosts events and activities throughout the year, and Keith has a radio show.
We asked Keith more about her work with Foxhollow.
TLR: What's your history with farming and with Foxhollow?
MK: I did not grow up farming. I learned everything I know about farming from great mentors, reading a lot, and hands-on experience. I was introduced to farming through a love for food and wanting to know where our food comes from. I read "Omnivore's Dilemma" in 2007 and was immediately interested in trying to figure out how we can make local farms work as a business while healing the land and feeding our community at the same time.
TLR: Do you find yourself to be an anomaly in running a farm?
MK: I still get interesting looks from people when they ask me what I do for a living. I always knew I wanted to run my own business but had no idea I wanted to run a farm. I studied business management and entrepreneurship at Appalachian State University (in Boone, N.C.). I actually wrote the business plan for Foxhollow Farm while still in college. It is incredibly challenging to make farming work as a business, but I am determined to continue to figure it out. It takes creativity, perseverance, diversification and patience. Luckily, our beef is tasty, so I have confidence in selling our 100-percent grass-fed beef.
TLR: What do you love about farm life?
MK: I love the early mornings when the sun is rising, there is still dew on the fields, the cattle are quietly munching on grasses and the heat of the day has not yet set in. I love the fact that it is seasonal. There are times where the farm chores seem to never end, and then there are times where curling up in front of a fire with a cup of tea and seed catalogs is all there is to do.
TLR: Can you tell me a little bit about your radio and television work?
MK: I have been working on a project with a foodie friend of mine, Lindsey McClave, called "The Farmer and The Foodie." We started out as a radio show and have been on air (Crescent Hill Radio) for four years. In August 2016, we launched a television show with a pilot episode airing on our local public television station, KET. We are now working on filming a full season, six episodes, and are almost there in our fundraising and filming. Our episodes have taken us across Kentucky, from a feature on the Hindman Settlement School and Grow Appalachia to an in-depth look at hunger in Louisville and how area farmers are partnering with Dare to Care to feed the food insecure to a profile on the efforts being made to revitalize the farming community of Henry County, Ky.
TLR: Is diversification – radio shows, events, etc. – part of your business strategy?
MK: Inviting the community to experience our working farm is definitely part of our mission. We are very interested in allowing people to connect with nature and have a deeper understanding of where their food comes from.
TLR: Why should people eat Foxhollow beef?
MK: Beef is healthy for the land, the animals and our fellow human beings. And it tastes really, really great.
TLR: How do you think the average busy office professional would benefit from walking around your farm?
MK: I think it can inspire creativity and make people realize that they are living things in nature and that the world is a really beautiful place and we should just take every day that we can to enjoy it.