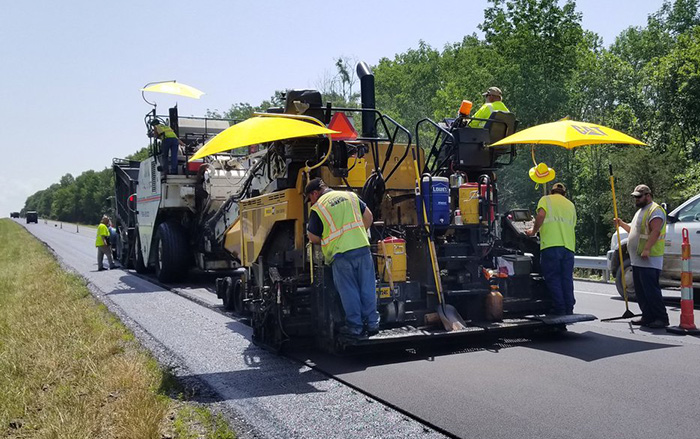 Kentucky road and bridge construction resumes in earnest for the 2018-2020 biennium with $2.68 billion authorized to move forward on nearly 400 bridge repairs and replacements; 1,275 lane miles of pavement improvements; and 230 mobility and safety projects.
It adjusts plans to more closely match up to Kentucky's expected revenue stream from its gasoline tax and federal contributions, and reflects the prioritization of the state's new Strategic Highway Investment Formula for Tomorrow process. More than 18 months of work went into designing the SHIFT formula and evaluating more than 1,100 projects.
SHIFT uses quantitative measures such as crash rates, congestion, economic growth and cost-benefit ratios to rank 1,100 projects and incorporates input and priority setting by local transportation leaders across the state.
"The recently enacted six-year highway plan represents the most balanced approach released by Kentucky in decades for addressing the commonwealth's transportation needs," said Gov. Matt Bevin. "This data-driven plan moves us in the right direction of prioritizing key road and bridge projects in view of actual available funding. I am grateful to state legislators and local officials who have collaborated with our administration to identify vital infrastructure needs and craft a roadmap to move Kentucky forward."
Commonwealth transportation officials – who juggle funding for many dozens of projects whose successive studies, rights and property acquisitions, bidding and construction can take a decade or longer – have had to make difficult decisions and recalculations the past few years. Falling gasoline prices caused state road fund and federal highway trust revenue to plunge. New state road projects were stopped, the gasoline tax formula was revised so it has a guaranteed "floor" of minimum revenue and new construction resumed at only $50 million for a year.
The two- and six-year plans the General Assembly approved this year, though a big increase from a couple of years ago are still "$200 million short of where we have been prior to the decrease in the average wholesale price of fuel," said Juva Barber, executive director of both the Kentucky Infrastructure Coalition and the Kentuckians For Better Transportation organizations.
The state needs more money for transportation projects to make up its infrastructure shortfall and take on projects thought very important to supporting Kentucky's economic growth goals, Barber said.
Bevin notes that the new plan makes the best of present revenue streams, but he also said the state must further change the gasoline tax formula to increase road fund income, create new revenue streams or both to have roads and bridges that are safe, adequate for travel and commerce needs, and will support a growing economy.
"We are glad that they put together a balanced highway plan," Barber said, "but going forward we are operating at such reduced revenue levels. We are going to have to make incredibly difficult choices about maintaining the infrastructure that we need and then building new infrastructure, in Northern Kentucky and Western Kentucky and elsewhere. Catching up won't be enough."
Members of the Kentucky Infrastructure Coalition and Kentuckians For Better Transportation "absolutely" agree more revenue is a necessity to maintain the connections state residents have today and provide the ones they expect for the future.
"We favor looking at all options: further modernizing the motor fuels tax and other revenue solutions," Barber said. The six-year highway plan (FY 2018-FY 2024) includes $8.5 billion for more than 1,400 projects, including bridge and pavement improvements, road widening, reconstruction of existing roads, and new routes and interchanges. The plan includes $4.6 billion for mobility and safety projects, $2.3 billion for bridge and pavement repairs, $1 billion in federally dedicated programs (such as transportation enhancements and congestion-reduction programs) and $600 million for federal GARVEE (Grant Anticipation Revenue Vehicles) debt service payments.
The 2018 highway plan invests funding to paint the existing Brent Spence Bridge in 2019, and in Western Kentucky, right-of-way and utility funds are dedicated for the I-69 Ohio River Crossing connecting Henderson and Evansville, Ind. The Cabinet will continue plans to study an eastern bypass concept focused on economic development from I-71 in Gallatin County to the AA Highway in Campbell County.
The highway plan will also benefit from House Bill 385, authored by Rep. Ken Upchurch and Rep. Sal Santoro and signed by Gov. Bevin. This legislation expands the previous design bid project limit from $30 million to $300 million and offers KYTC another option to deliver the most cost-effective, flexible approach to address transportation needs.
"As we move into the summer construction season, we have to closely monitor our cash balance due to a significant number of projects in the pipeline, as well as substantial debt payments the Cabinet owes beginning in June," KYTC Secretary Greg Thomas said. "Our top priorities will be limited to projects that improve safety, repair bridges and pavement, and support job growth."
More information is available at transportation.ky.gov/shift. ■
---
Mark Green is executive editor for The Lane Report. He can be reached at [email protected].