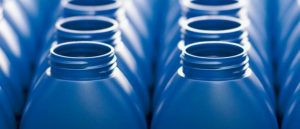 BOWLING GREEN, Ky. (July 26, 2018) — Austrian-based plastic packaging company Alpla Inc. announced plans Thursday to expand their Bowling Green operations. This $6.9 million project will include the addition of new equipment, 100,000 s.f. of warehouse space and 24 new jobs.
"Since locating their second Kentucky facility in Warren County just a few years ago, Alpla has continued to steadily grow their operations," said Gov. Matt Bevin. "The company's newest expansion is great news for the Bowling Green region and is emblematic of Alpla's success here in the commonwealth. We wish them much success moving forward, and are grateful for their continued dedication to doing business in Kentucky."
"Alpla would like to thank the Governor's office, the Kentucky Cabinet for Economic Development, the Bowling Green Area Chamber of Commerce, the Kentucky Economic Development Finance Authority, the Warren Rural Electric Cooperative Corp. and the TVA for their assistance and support with this project," said Peter Irby, director of finance at Alpla. "We are excited about the opportunity to continue our growth in Warren County and the Bowling Green area. Our success is dependent upon our people and we continue to find qualified, hard-working and dedicated employees to work with us in this region."
Alpla employs over 19,000 people at their 176 locations across 45 countries. Alpla's original announcement in 2013 included the creation of 72 new jobs, $22.4 million in capital investment and the purchase of the Bowling Green Area Economic Development Authority's Speculative Building IV in the Kentucky Transpark.
"TVA and Warren Rural Electric Cooperative Corporation congratulate Alpla, Inc. on its decision to expand operations in Warren County," said TVA Senior Vice President of Economic Development John Bradley. "It's always an exciting day when we can celebrate a company that has chosen to invest in the community and we are proud to partner with Bowling Green Area Chamber of Commerce and the Kentucky Cabinet for Economic Development to celebrate this announcement."
"We are excited to celebrate the expansion of Alpla here in Bowling Green," said Ron Bunch, Chamber president and CEO. "They have been exemplary members of our business community. Their success is no surprise and we look forward to their future in our community."
Alpla is a plastic packaging company that supplies products to a number of industries, such as household goods, personal care, and food and beverage.
"We congratulate Alpla on this expansion project," said Bowling Green Mayor Bruce Wilkerson. "It's always a good day when we celebrate the success of companies in our community."
"It's very exciting to continue to see companies thrive all across our community," said Warren County judge-executive Mike Buchanon. "Warren County is a great place to do business and Alpla is one more shining example of our strong business community."
This expansion project will have an economic impact on South Central Kentucky totaling $52.64 million over the next 10 years.
The Bowling Green Area Chamber of Commerce has announced 10 economic development projects totaling $63.6 million in capital investment and 258 new jobs for 2018. Bowling Green was recently recognized by Site Selection magazine as a top tier-2 metropolitan area in the United States and was ranked among the top 20 for 2018's 'Best Small Cities to Start a Business' by Wallethub.com.