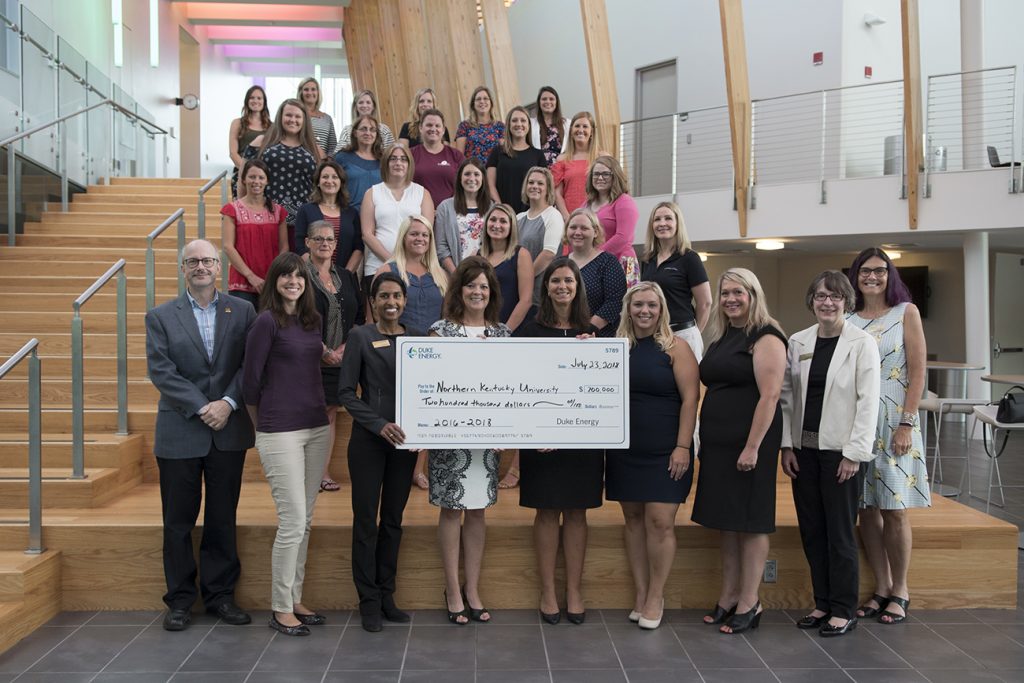 HIGHLAND HEIGHTS, Ky. (July 26, 2018) – Northern Kentucky University's Center for Integrative Natural Science and Mathematics (CINSAM) continues its Next Generation STEM Classroom Project 2.0 (NextGen STEM Project) with a $200,000 a cumulative investment from the Duke Energy Foundation. The grant has supported educating middle school teachers over the past three years through the NextGen STEM Project. STEM focuses on science, technology, engineering and mathematics.
As part of this project, 24 NextGen STEM Fellows from across northern Kentucky are attending CINSAM's Summer Institute to develop teacher leaders in STEM. The institute, led by CINSAM's master teachers Ella Bowling and Amber Carter, was first developed last year as part of CINSAM's year-round NextGen STEM Project.
"Duke Energy is pleased to continue to support programs, like the Summer Institute, that enhance our local schools by training teachers to educate other teachers on STEM," said Kim Vogelgesang, Duke Energy Foundation. "Duke Energy realizes how important STEM training is for our educators, students and community vitality."
The NextGen STEM Project models best practices for teachers from school districts throughout Kentucky. The program involves teaching a STEM lesson to a class of students with teachers from multiple grade levels observing around the room.
"After this 'Fishbowl' class, the teachers meet with our CINSAM staff for a recap breakdown of the lesson to reflect on their observations and explore ways to apply lessons learned to their own teaching," said Madhura Kulkarni, CINSAM director.
The teachers who attended last year's Summer Institute are returning to mentor the current fellows, and graduates of the NextGen program serve STEM ambassadors in their local districts. Danielle Zink, a fourth-grade teacher with Ludlow Schools, first attended a CINSAM program in 2011. She continued to participate in CINSAM professional development activities and was part of the NKU fellows program. Zink, now a teacher trainer for her district, won a scholarship to the National Science Teachers Association conference earlier this year.
"The benefit from the fellows program is having the opportunity to learn from other teachers. It's a struggle for educators to write the lesson plans and design the experiments," said Zink. "CINSAM has STEM experiment kits that teachers can borrow. In each kit, you have all the equipment and supplies needed for the learning activity, and you get the lesson plans that are designed to fit state standards. Removing one hurdle is a huge step in getting teachers to embrace STEM activities in the classroom."
CINSAM educators also travel to area school districts to provide professional development for teachers in their classrooms. For more information on the CINSAM Next Gen STEM Classroom, visit its website.