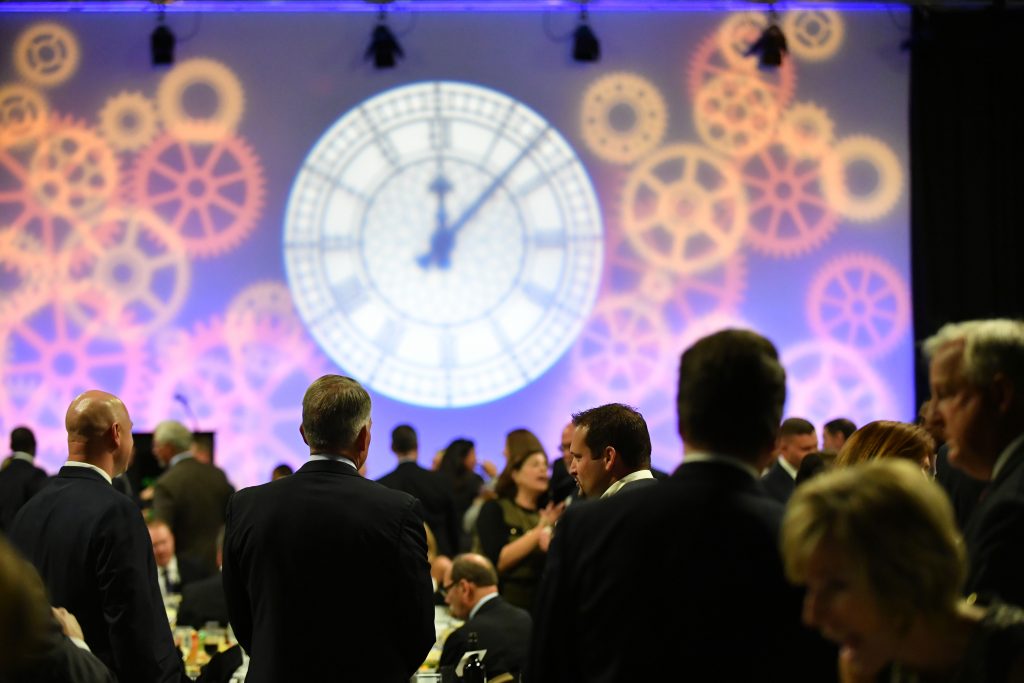 FORT MITCHELL, Ky. (August 7, 2018) – The Northern Kentucky Chamber of Commerce (NKY Chamber) invites the business community to its annual dinner, presented by Fifth Third Bank on Thursday, September 20. The NKY Chamber's largest networking event of the year will recognize community and business leaders who are making a lasting impact on our region while also highlighting the strides the NKY Chamber has made in the last year and sharing plans for the year ahead.
"This past fiscal year has been one of tremendous momentum with many advocacy wins, sell-out events, and the launch of GROW NKY, the new talent pipeline strategy that will change the landscape of workforce development in our community," said NKY Chamber Board Chair Rhonda Whitaker. "We are excited to celebrate this past year's many accomplishments in advancing the business climate – a result of a dedicated board and staff energized member volunteers, and great community partners."
The evening will also mark the transition in leadership for the NKY Chamber Board of Directors. Jim Parsons from Keating Muething & Klekamp PLL will begin his one-year tenure as board chair while Rhonda Whitaker of Duke Energy will step down into the immediate past chair position.
"I'm looking forward to working with volunteers and staff to enhance the mission of the NKY Chamber and its critical role to lead, connect, and advocate on behalf of our business community," said Parsons. "In the upcoming year, the NKY Chamber will celebrate 50 years of service as the advocate for businesses in Northern Kentucky so it is an exciting time to be leading the organization."
The following community and business leaders will be recognized with awards:
The Walter R. Dunlevy/Frontiersman Award
Established in 1968, the Walter R. Dunlevy Frontiersman Award recognizes an individual who has a lifelong history of outstanding service to the Northern Kentucky community, exhibits outstanding service to their profession or industry, and exemplifies the highest standards of personal integrity and family responsibility. This year's recipient is Jim Willman with Ashley Quarters Hotel.
The Walter L. Pieschel (MVP) Award
Named in memory of the NKY Chamber's first volunteer leader, the award recognizes an individual Chamber member who has provided outstanding volunteer service to the NKY Chamber as a committee member, committee chair, or in any other special capacity during the past 12 months. This year's recipient is Jeff Loy with Dynamic Supply Chain Solutions, LLC agent for Premier Expediters Inc.

The Northern Kentucky Unity Award
Presented to an individual or individuals who have shown leadership in bringing Northern Kentuckians together to address and solve common challenges and issues, and has shown leadership in seeking regional solutions to Northern Kentucky challenges. This year's recipient is the Health Innovation Center Collaboration with Northern Kentucky University, St. Elizabeth Healthcare and the University of Kentucky.

The Northern Kentucky ImageMaker Award
Presented on special occasions to an individual or individuals who have brought national or international attention to the Northern Kentucky community through their achievements. This year's recipient is FC Cincinnati.
The Devou Cup
The Northern Kentucky Fund of the Greater Cincinnati Foundation created the Devou Cup to honor the generosity of individuals who make a profound difference in the quality of community life in Northern Kentucky, now and into the future. This year's recipients are Joan and Wm. T. (Bill) Robinson III.  
The Wm. T. (Bill) Robinson III Northern Kentucky Economic Development Award
The Wm. T. (Bill) Robinson III Northern Kentucky Economic Development Award will be presented annually to the individual, entity, company, or organization demonstrating significant advancement of economic development efforts in Northern Kentucky. This year's recipient is Daniel E.Tobergte.
"The individuals and organizations being recognized tonight reflect the best our region has to offer," said NKY Chamber President, Brent Cooper. "With our increased membership, sold out events, and 'off the charts' good reviews, it is clear the NKY Chamber is as important to our community today as it has ever been. I can't wait to celebrate with everyone during the biggest night in Northern Kentucky!"
The annual dinner will take place at the Northern Kentucky Convention Center (1 West RiverCenter Blvd) and will begin at 5:00 p.m. with a networking cocktail reception followed by dinner and awards program at 6:30 p.m.
Individual tickets are $95 and a table of 10 is $950. Tickets are available to the cocktail reception only, for $60. Registration is available online at www.nkychamber.com/events.
Sponsors: 
Title Sponsor: Fifth Third Bank
Host Sponsors: Northern Kentucky Convention Center, Masterpiece Creations
Community Partner: Cincinnati Business Courier
Unity Award Sponsor: PNC Bank
ImageMaker Award Sponsor: St. Elizabeth Healthcare
Devou Cup Presented By: The Northern Kentucky Fund of The Greater Cincinnati Foundation
Pieschel Award Sponsor: Humana
Wm. T. (Bill) Robinson III Northern Kentucky Economic Development Award Sponsor: Northern Kentucky Tri-ED
Presenting Sponsor: Delta Air Lines
Wine Sponsors: BB&T Bank, DHL Express, Stock Yards Bank & Trust, Taft Stettinius & Hollister