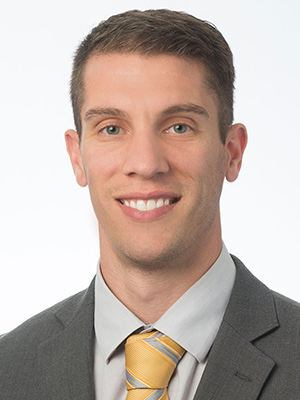 JEFFERSONVILLE, Ind. (Aug.  7, 2018) — Dr. Shane Kibbe will join the orthopedic practice of the Orthopedic Surgeons of Southern Indiana in September, Clark Memorial Hospital announced Tuesday.
Kibbe will practice along with Dr. Patrick Bauer, Dr. Nyagon Duany, Dr. John Lindner, Dr. John Mahan, Dr. Thomas Sehlinger and Dr. Brent Walz. Kibbe will see patients at locations in Jeffersonville, New Albany and Scottsburg.
Kibbe graduated from the University of Toledo and completed his residency in orthopedics at the University of Louisville. Recently, he completed a sports medicine fellowship at Beacon Orthopedics. He worked as a team physician with the Cincinnati Reds, Xavier University basketball team, Morehead State University athletics and Archbishop Moeller High School.
Kibbe played high school and college football and experienced sports-related injuries that required surgery by orthopedic surgeons. This led him to pursue a career in orthopedic sports medicine.
"Being on both sides of the table — as a patient and as a surgeon — has given me a unique perspective when it comes to treating athletes," said Kibbe. "I look forward to helping keep athletes on the field and returning them to play following injuries."
"I am excited to welcome Dr. Kibbe to our established group of orthopedic surgeons," said Martin Padgett, Clark Memorial Hospital, CEO. "Dr. Kibbe is an excellent addition to our growing number of specialist and his expertise in orthopedics and sports medicine is important as Clark Memorial strives to meet our region's evolving healthcare needs and in making our communities healthier."
Dr. Kibbe will provide a comprehensive range of services for patients:
General orthopedics
Sports Medicine
Knee & hip replacement surgery
Baseball injuries
"Tommy John" surgery
Shoulder injuries
Fractures
Overuse injuries
Kibbe is accepting new patients for September appointments. Call (812) 282-8494 to make an appointment at either Jeffersonville or Scottsburg. Call (812) 944-4720 to make an appointment at New Albany.