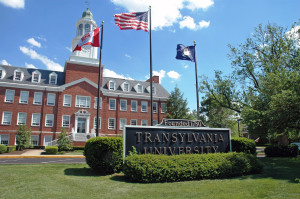 LEXINGTON, Ky. (Aug. 9, 2018) — A seminar to foster national dialogue about the role of the liberal arts in the digital age kicked off Thursday at Transylvania University.
The Transylvania Seminar, Liberal Education: Approaching the Digital drew professors from schools across the country including Vassar, Rhodes and Bard colleges. It builds on Transylvania's commitment to prepare students to face the challenges and opportunities of the 21st century with a grounding in liberal arts values.
"The seminar aims to contribute to a national conversation on the idea of liberal education and the mission of the liberal arts college amidst the extraordinary possibilities, as well as the potential challenges, created by digital technologies," said Laura Bryan, Transylvania's vice president for academic affairs and dean of the university.
Tying into the seminar, Transylvania launched a Digital Liberal Arts initiative last year to teach students how digital technologies affect the world of today and tomorrow. The university also recently added a digital arts and media major and hired a digital content and technology integration specialist.
The seminar, which runs through Saturday, features a plenary with Kathleen Fitzpatrick, director of digital humanities and professor of English at Michigan State University. She is the author of "Planned Obsolescence: Publishing, Technology and Future of the Academy" and "The Anxiety of Obsolescence: The American Novel in the Age of Television."
Along with her talk, the seminar is raising questions about how liberal education is changing—and what is its relevance—in the digital age. It also addresses the foundation and purpose of a liberal education.
"Our national liberal arts colleges play a vital role in transforming talented students into critical thinkers who will live lives of meaning and service, appreciate the intrinsic value of an idea, read widely, and express themselves with clarity and originality," Bryan said.
Now in its 13th year, The Transylvania Seminar is highly competitive; candidates are nominated by the president and academic dean at their institutions, and they submit a statement on liberal education. The participants were chosen from the nation's nationally ranked liberal arts colleges. 
This year's attendees included:
●Dr. Elizabeth Bridges, Rhodes College
●Dr. Matt Carlson, Wabash College
●Dr. Zachary Cofran, Vassar College
●Dr. Veronica Dean-Thacker, Transylvania University
●Dr. Kathleen Fitzpatrick, Michigan State University
●Paige Flanagan, Hampden-Sydney College
●Dr. Emily Goodman, Transylvania University
●Dr. Lori Hartmann, Centre College
●Dr. Kara McShane, Ursinus College
●Dr. Andrew Morgan, Hendrix College
●Dr. J. Michael Raley, Hanover College
●Dr. Robert Steen, Oglethorpe University
●Dr. Drew Thompson, Bard College
●Dr. Hal Thorsrud, Agnes Scott College
●Dr. Stacey Triplette, University of Pittsburgh at Greensburg
●Dr. Homer White, Georgetown College
●Dr. Robin Woods, Ripon College
●Dr. Angela Ziskowski, Coe College
The seminar is sponsored by the Bingham Board of Trust.