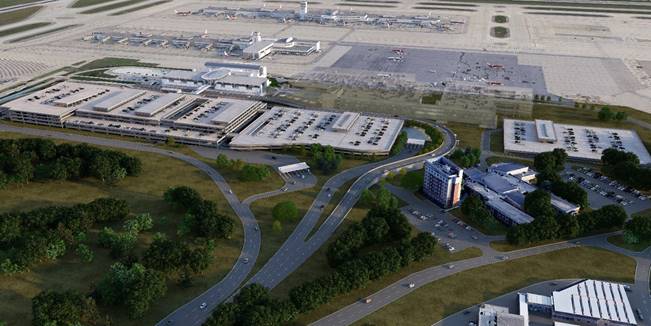 ERLANGER, Ky. (Aug. 13, 2018) — Construction kicks off this week at the Cincinnati/Northern Kentucky International Airport (CVG) which will create a new entrance road and improved access to the airport.
This summer, and continuing through third quarter 2019, roadway construction at CVG will make way for a new entrance to the main terminal and connection to the consolidated rental car facility to be built late 2019-2021, and scheduled to open late 2021.
Construction elements include:
• Elimination of the wide, sweeping loop that supported former Terminals 1 and 2
• Partial demo to the Terminal Garage to make way for the new entrance road
• Traffic flow changes on the arrival/pick-up and departure/drop-off ramps
• New entrance plaza to Terminal Garage
"CVG is experiencing record-breaking growth, and with more passengers coming through our front door this project will improve access to the airport and elevate the passenger experience," said Candace McGraw, chief executive officer, CVG. "The updates and new rental car facility will also eliminate emissions from shuttles circling back and forth from rental car lots and the Terminal and continue to make CVG competitive."
CVG encourages travelers to visit cvgairport.com to learn what areas will be impacted. Traffic patterns will change regularly throughout the project. Please take notice of construction signage for efficient way finding.