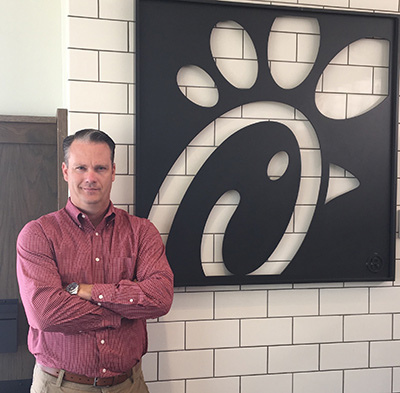 LEXINGTON, Ky. (Aug. 23, 2018) — Chick-fil-A marks the 40th anniversary this month of being in Kentucky with the Aug. 23 opening of its newest Lexington restaurant at 2299 Richmond Road.
Local operator Roderick Long, who becomes a multi-restaurant franchise owner with this second opening, is inviting residents to join in the opening festivities by participating in a community celebration that has been a 14-year Chick-fil-A tradition. Chick-fil-A's First 100 event has given away more than $34 million through 2017.
First 100 Campout event and children's book drive
The family friendly overnight First 100 Campout party includes fun, engaging activities for all ages while Chick-fil-A meals are served throughout the countdown to the opening. Registration begins in the restaurant parking lot at 6 a.m., Aug. 22. Details include:
• Up to 100 adults will win a digital offer card with a year of free Chick-fil-A meals (52 meals with each consisting of a Chick-fil-A Chicken Sandwich, medium Waffle Potato Fries and a medium beverage).
• The community event is open to guests surrounding the restaurant with a list of eligible zip codes and complete rules found at https://thechickenwire.chick-fil-a.com/News/Future-Openings.
The celebration also will include the opportunity for the community to help the Lexington Humane Society who will be onsite grand opening morning from 9 a.m. to 3 p.m. to accept pet food donations, sell merchandise and show some of their cute friends available for adoption. Along with showing appreciation for the pet food donations by offering a digital offer card good for three free menu items, Long will provide dog treats and also hold a drawing for a special Chick-fil-A prize pack for guests who register that day.
"I am excited to bring another Chick-fil-A to Lexington and have an opportunity to expand my community service outside my restaurant," said Long. "I am committed to developing my team members as together we provide a remarkable experience to our guests who become part of our family."
Team Member opportunities
Long continues to seek enthusiastic, service-minded team members to work in all areas of the restaurant while also being given opportunities for leadership development and continuing education. Visit www.cfaeastlex.com for more details and to apply.
Thousands of team members are being impacted annually by Chick-fil-A's education initiative. This year more than 5,700 team members were awarded $14 million in scholarships, a $5.7 million increase from 2017 and one of the highest unrestricted per-employee scholarship investments in the industry. Team members, who are beginning or continuing their higher education, are awarded scholarships in the amount of $2,500 or $25,000 that can be applied for any area of study at any accredited institution. In addition, all of Chick-fil-A's 120,000 team members also have access to tuition discounts and other educational benefits at 100 colleges and universities nationwide.
With last month marking his 15th anniversary as an operator in Lexington, Long's investment in his team includes awarding some $72,000 in Chick-fil-A scholarships, including $25,000 in Remarkable Futures scholarships this year alone. 
About Operator Roderick Long
Following high school, Long spent the next four years working in counternarcotic intelligence for the U.S. Air Force before attending Angelo State University. In 1995, he went to work in Texas for eight years for a petroleum company alongside his brother-in-law, Joe Addeo. Upon learning that their co-worker, Keith Metcalfe, was leaving to become a Chick-fil-A operator, both men thought he was crazy.
After listening to Metcalfe for the next several years discuss how much he loved being in business for himself and his passion behind the brand, Long and Addeo decided to follow in his footsteps to pursue becoming Chick-fil-A operators. Addeo was selected to operate a location in Orlando in March 2003, which he still owns today, and Long followed a few months later when he was selected that July to operate the Hamburg Place in Lexington in October 2003. The three co-workers and friends have never looked back, with Metcalfe now consulting with new operators opening their own restaurant.
Long is supported by his wife, Lori, and their two children Eryn and Brett, who grew up in the business and continue as adults to work alongside their father as he opens his second location. Becoming a multi-restaurant operator is no small feat as the company receives nearly 40,000 applicants yearly for around 100 franchise opportunities. The Long family have planted deep roots in the Lexington community that includes fulfilling their dream of living on a large-acre farm, complete with cows.
Restaurant details
Long's nearly 4,800-s.f. restaurant has been designed to enhance all aspects of a guest's experience from the drive-thru to the counter to in-restaurant dining. The feature of a door at the drive-thru pick-up window was actually the brainchild of Long's who came up with the idea on a napkin in Lubbock, Texas with two other operators trying to improve guests drive-thru experience. Both of his restaurants feature the door with his Hamburg Place restaurant being the first in the chain to have one. Other restaurant highlights include a:
• Dining room that seats 146 with a vintage-inspired interior, including a large gathering table made from reclaimed wood, light fixtures from recycled Coca-Cola bottles.
• Chick-fil-A app mobile ordering inside pickup counter.
• Full-service menu with a variety of healthy and dietary options, including breakfast until 10:30 a.m. Open 6:30 a.m. to 10 p.m., daily except Sundays.
• Two-lane drive-thru merging into a single pick-up point that can handle upwards of 180 cars an hour, along with a covered canopy for face-to-face ordering to enhance and further speed up the process.
Chick-fil-A expansion in metro Lexington
The Lexington opening, which becomes the metro area's eighth Chick-fil-A, is one of 129 slated to be built nationwide this year. Lexington's first Chick-fil-A location opened in July 1980 in Fayette Mall. Additional information about the Chick-fil-A at Richmond Road at New Circle Road, can be found by visiting https://www.facebook.com/CFARichmondRoad/.