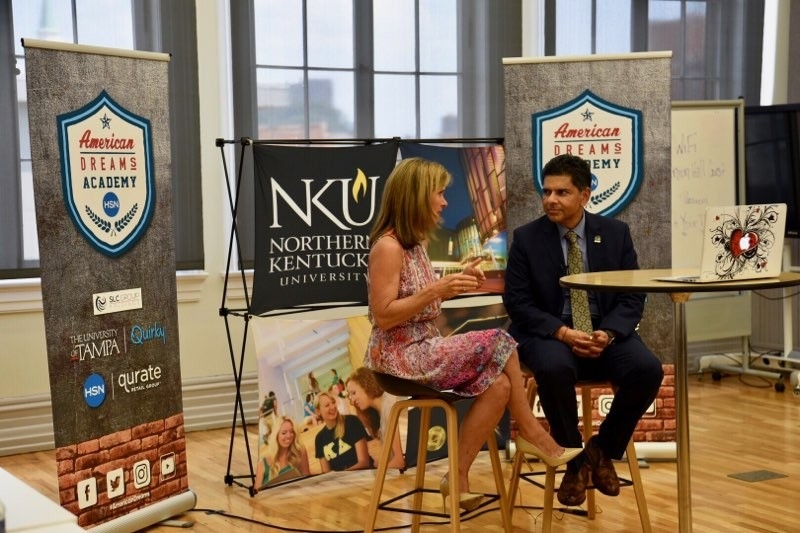 HIGHLAND HEIGHTS, Ky. (August 14, 2018) – Northern Kentucky University and leading entertainment and lifestyle retailer, HSN, are partnering to bring the HSN American Dreams Academy to Cincinnati on August 15-17, 2018. HSN and The University of Tampa's John P. Lowth Entrepreneurship Center, Sykes College of Business, created the Academy in 2017 to provide training and opportunity for entrepreneurs.
The two-day scholarship-based summit will be hosted at Cintrifuse in Union Hall. It's an interactive event targeted towards emerging entrepreneurs looking to launch their business. The third day is an optional pitch day where attendees can present their product to a panel of experts and get feedback.
On August 14, MSNBC's JJ Ramberg will host a Symposium for business leaders, elected officials and regional advocates to discuss issues and opportunities facing the entrepreneurial community. Ramberg is the anchor of "Your Business," a program on MSNBC that focuses on issues affecting small business owners. She will interview NKU President Ashish K. Vaidya as part of the roundtable to share his thoughts on the region's entrepreneurial outlook.
"NKU's commitment to develop talent, foster innovation and connect communities enables regions to thrive and prosper. We are delighted to partner with HSN's American Dreams Academy so that we can support the next generation of entrepreneurs and small businesses. It's an extension of our role of providing access and opportunity to help people attain the American dream," said President Vaidya.
NKU's network of centers and programs that support entrepreneurialism and business will take part in the Academy. Jill Henry, NKU executive director of the Center for Applied Informatics; Zac Strobl, NKU interim co-director of the Center for Innovation and Entrepreneurship; and Rebecca Volpe, director of NKU's Small Business Development Center; along with Regent Normand G. Desmarais will greet the attendees on the first day. Stephanie Hughes, NKU's Haile/US Bank College of Business professor and chair of the Management Department, will participate on the pitch day judges' panel with representatives from HSN and other sponsors.
The HSN American Dreams Academy, sponsored by Quirky and SLC Group Holdings, collaborates with strategic partners to discover new entrepreneurs and provide the training to bring their products to the market. So far, 11 products pitched in the Academy have been promoted on HSN's platforms, with more in the final stages.
The Cincinnati Academy is the third event, following ones held in Washington D.C., and Tampa. For more information, visit the HSN American Dreams Academy website.