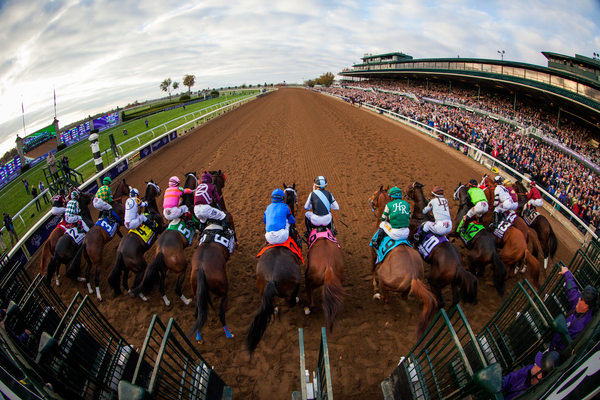 LEXINGTON, Ky. – Breeders' Cup, one of Thoroughbred horse racing's most prestigious international events, today announced host sites for the upcoming 2019, 2020, and 2021 Breeders' Cup World Championships including a return to Keeneland Race Course in Lexington in 2020 following a highly-successful debut in 2015. In 2019, the season-ending, two-day World Championships will be hosted at Santa Anita Park in Arcadia, Calif. and Del Mar racetrack in Del Mar, Calif. in 2021.
"We are extremely proud and excited to bring the Breeders' Cup back to three of the country's most beloved racetracks in California and Kentucky, all of which share our commitment to providing an exceptional race-day experience for horse racing enthusiasts and first-time guests alike," said Craig Fravel, president and CEO of Breeders' Cup Ltd.. "Breeders' Cup events at Santa Anita, Keeneland and Del Mar have resulted in record success and overwhelming support from our fans around the world. We look forward to building upon past triumphs and to bringing the world's best two days of Thoroughbred racing to these great racetracks and communities."
Located in the heart of the Kentucky Bluegrass,  Keeneland Race Course will host the Breeders' Cup in 2020 for the second time following its inaugural year as a host site in 2015. In preparation for the 2015 Breeders' Cup, Keeneland underwent a miraculous transformation to accommodate the event's large crowds, with luxury chalets and lounges set up on a temporary basis to provide fans with unique venues and experiences. The Friday and Saturday races drew a cumulative crowd of 95,102 attendees, breaking attendance records for Keeneland.
"The Bluegrass served as the ideal backdrop for the 2015 Breeders' Cup and we could not be more excited to have Keeneland serve as the host of the 2020 edition of the World Championships," Keeneland president and CEO Bill Thomason said. "Building on the success of the event for the industry and the community, we anticipate an even greater spectacle in 2020 and look forward to the Breeders' Cup returning home once again."
For more information visit www.breederscup.com.