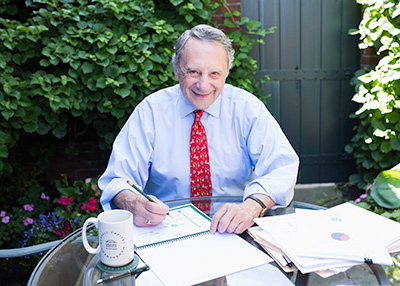 LEXINGTON, Ky. (June 13, 2018) — One of Lexington's most respected financial advisors is celebrating 50 years in the business.
Jack Russell, founding partner and chief executive officer of Russell Capital Management, has spent his entire career as a trusted advisor and financial manager for multigenerational families and tax-exempt organizations. He manages investment portfolios for some of the most prominent individuals and foundations in the state.
"I always wanted to follow my father's footsteps into the investment business," said the Lexington native.
His attraction to numbers runs in the family. "I'd watch my father at his desk," Russell said. "I could see him neatly writing figures in these columnar pads. It always fascinated me."
Russell Capital started with just Jack and an executive assistant. Now the company boasts 11 employees and $600 million in assets under management.
The investment business has changed considerably in 50 years. When Jack began his career, all transactions were completed by phone. "To get an over the counter quote, the client would first call their broker, then the broker would call the market makers for the best quote," said Russell.
Today, Russell's desk is covered with computers to keep track of the significantly higher market volumes that translate to more investment opportunities and more earnings for clients.
His approach to wealth management has drawn successful individuals and charitable foundations to his firm.
Russell's philanthropic endeavors have included some of Lexington's most needed causes including the Lexington Dream Factory, Child Development Center, Lexington Philharmonic and Henry Clay Ashland Foundation.
Fifty years later, Russell has no plans to retire. He is still managing portfolios, researching investments, meeting with clients and looking forward to the next 50 years.