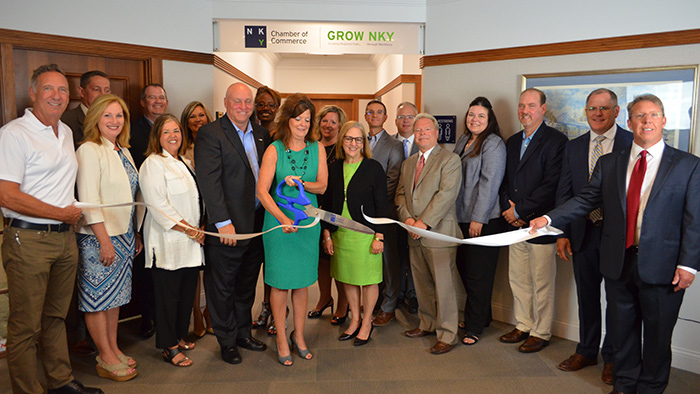 FORT MITCHELL, Ky. — The Northern Kentucky Chamber of Commerce announced Monday a new strategic initiative committed to strengthening the region's workforce.
The initiative — Growing Regional Outcomes through Workforce (GROW) for Northern Kentucky – is a comprehensive, holistic workforce development/talent strategy focused on leveraging the community's full complement of assets to grow, attract and retain a globally competitive workforce.
GROW NKY will be led by the NKY Chamber in conjunction with key workforce partners including Northern Kentucky Tri-County Economic Development Corporation, Northern Kentucky Workforce Investment Board, Partners for a Competitive Workforce, Northern Kentucky Education Council, Northern Kentucky Cooperative for Educational Services, Brighton Center and Children, Inc./NaviGo.
The initiative will focus on ensuring Northern Kentucky can attract future businesses and retain current businesses as a result of a strategic workforce effort, unique to the Commonwealth of Kentucky. The NKY Regional Alliance provided strategic support and played a pivotal role in orchestrating the funding necessary to launch GROW NKY.
"The Northern Kentucky Regional Alliance and our member companies are very supportive of this comprehensive workforce strategy that will drive our community forward as we look to educate, attract and retain our future talent," said Karen Finan, president & CEO, Northern Kentucky Regional Alliance. "This initiative is incredibly important to NKY and we are pleased to have the opportunity to support the NKY Chamber and all partners involved with the GROW NKY Workforce Initiative."
Low unemployment numbers in Northern Kentucky, just 3.2 percent compared to 4.1 percent statewide, contribute to the need to give due attention to finding qualified workers and ensuring that the educational system in conjunction with local employers can provide long-term career awareness and experiential learning opportunities to students.
According to the Kentucky Center for Education and Workforce Statistics' Northern Kentucky Local Workforce Area Occupational Outlook report, total job openings are expected to be around 7,309 annually. Closing the gap between the number of jobs available and a qualified workforce will be imperative to meeting both the supply and demand needs of the region's talent pipeline.
"Workforce continues to be one of the key challenges for employers around the country, and with the exceptional economic growth that our region continues to experience, the NKY Chamber is excited to lead the region, in conjunction with many outstanding partners in the workforce arena, to move the needle on all aspects of our talent pipeline," said Rhonda Whitaker, NKY Chamber Board Chair, and Vice President, Community Relations – Ohio & Kentucky for Duke Energy. "GROW NKY is establishing critical short-term and long-term goals to address both supply and demand needs that will strengthen our high demand sectors and provide opportunities for students and adults alike. Aligning workforce activities in our region will show prospective and expanding companies that we have the best business climate in the nation. It's an attainable vision, and one that this region is ready to tackle through proven collaboration and consensus-building."
GROW NKY will focus on five key pillars – Kindergarten Readiness, College & Career Readiness, Adult Career Readiness & Life Long Learning, Talent Retention & Attraction, and Employer Policies & Practices – each including respective short and long-term goals. Work in each pillar will be geared toward the high-demand sectors in Northern Kentucky: Advanced Manufacturing, IT, Advanced Logistics, Health Sciences, Financial Services and Construction. Based on core competencies, each pillar will be led by one of the participating workforce partners, each of which has committed at least one Program Associate to work with GROW NKY.
"What if every employer in Northern Kentucky had an apprentice, co-op or intern?" said Brent Cooper,
President and CEO of the Northern Kentucky Chamber of Commerce. "We know statistically kids who gain that kind of experience during high school get better grades, are more likely to graduate, and are more likely to be hired after high school. That is just one of the outcomes we hope to 'GROW' through this effort."
GROW NKY offices are located in the Chamber Center Building (300 Buttermilk Pike, Third Floor, Fort Mitchell, Ky. 41017), adjacent to the offices of Northern Kentucky Tri-ED and the NKY Chamber. To learn more about GROW NKY, visit www.nkychamber.com/GROW or contact Leisa Mulcahy, managing director, at (859) 578-6396.