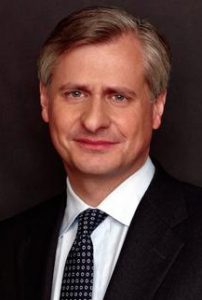 LEXINGTON, Ky. — Jon Meacham, the Pulitzer Prize-winning author of biographies of Thomas Jefferson and Andrew Jackson, is the guest speaker at this year's Bale Boone Symposium at the University of Kentucky Gaines Center for the Humanities.
"An Evening with Pulitzer Prize-winning author Jon Meacham" is free and open to the public. It will be held at 7 p.m. Monday, Sept. 17, in the Worsham Cinema at the Gatton Student Center. A reception and book signing will follow the presentation.
Meacham is a renowned biographer, presidential historian and author of several New York Times best-sellers including "Thomas Jefferson: The Art of Power," "American Lion: Andrew Jackson in the White House" and "Destiny and Power: The American Odyssey of George Herbert Walker Bush." Meacham is also a contributing writer to The New York Times Book Review, contributing editor at Time magazine, and a distinguished visiting professor at Vanderbilt University.
As a capstone to Kentucky Humanities' statewide literacy initiative Kentucky Reads: "All the King's Men," Meacham will be speaking on the relevance of Robert Penn Warren's work, from politics to race to regional culture and Warren's impact on literature and American culture. A complete schedule of Kentucky Reads events can be found at www.kyhumanities.org.
Meacham's latest book, "The Soul of America: The Battle for Our Better Angels" (Random House), will be available for purchase at the event.
Kentucky Humanities is an independent, nonprofit affiliate of the National Endowment for the Humanities and is supported by the National Endowment and private contributions.
Founded in 1984 by a generous gift from John and Joan Gaines, the Gaines Center for the Humanities functions as a laboratory for imaginative and innovative education on UK's campus. The Gaines Center is designed to enrich the study of the humanities as an intellectual activity and as a means to self-betterment. The center offers courses and sponsors activities that appeal to faculty and students in all disciplinary fields.