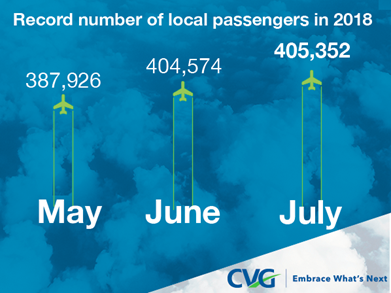 ERLANGER, Ky. — The Cincinnati/Northern Kentucky International Airport (CVG) broke a recent all-time local passenger record in July. This summer the airport served the most local passengers in its 71-year history breaking records in May, June and July.
The three month total of 1.2 million passengers surpassed the previous record of 1 million in May, June, July of 2000.
"New destinations, additional frequencies and lower airfares are all contributing to the overall growth we're seeing," said Candace McGraw, chief executive officer, CVG. "We thank the community for embracing the positive change and choosing to fly with CVG. Our mission is to make travel through CVG an unforgettably positive experience for all of our passengers."
The number of available aircraft seats has increased 13 percent this year boosting CVG as one of the fastest growing airports in the U.S.
Additional flights to nine domestic destinations have been announced or launched this year, including San Jose, San Antonio, Austin, Sarasota, Phoenix, Charleston, Raleigh/Durham, Denver and Jacksonville. Three international destinations were added in the last few months including Cozumel, Mexico; Grand Bahama Island; and low-cost service to Europe with WOW air.
Cargo volume continues to drive significant growth at CVG. In July, cargo tonnage grew by more than 13 percent with 101,056 tons. Year to date cargo volume is up 28 percent over 2017. CVG now ranks as the eighth largest cargo airport in North America.