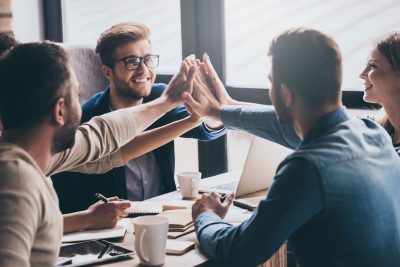 By LaToi Mayo and Jay Inman
Employers continue to face a great deal of uncertainty – from political swings in regulation from the administration in Washington and materially different views on key employment issues within various federal administrative agencies, to the fundamental cultural view sparked by the #MeToo movement and the related issue of pay equity, and to shifting protections for whistleblowers.
That consensus was the major takeaway from The Littler Annual Employer Survey, released in May at Littler Mendelson's annual Executive Employer Conference in Phoenix. The survey was completed by more than 1,100 in-house counsel, human resources professionals and C-suite executives, who expressed concerns that resonate with many employers in Kentucky and nationwide.
Workplace Regulation
A broad swath of mandates from the previous presidential administration – including those related to healthcare law, overtime pay, union participation and pay data collection – have been rescinded or placed on hold, while regulation and enforcement of both legal and illegal immigration have tightened. This turnabout has compelled companies of all sizes and industries to focus significant time, money and resources on writing and rewriting internal policies, training and retraining employees, and formulating and reformulating strategies. Specific survey results include:
The majority of respondents (64 percent) said that the frequent and dramatic reversal of workplace policies and regulations with changes in political power has created a burden for their businesses. At the same time, 75 percent said that the patchwork of state and local labor and employment requirements has led to compliance challenges.
Following a period of active immigration policy changes, respondents identified tighter restrictions on visa adjudications (48 percent) and increased workplace immigration enforcement (36 percent) as the areas where they expected to see the most significant impact on their workplaces in the near term.
State and local governments also maintain a furious pace in enacting workplace regulations, leaving employers to grapple with an increasingly fragmented – and often contradictory – array of employment laws. Dozens of new state laws were implemented in 2018, revising existing state statutes or otherwise implementing new laws pertaining to everything from equal pay and the treatment of pregnant workers to mobile phone use while driving and the protection of social media passwords.
For example, in Kentucky, we saw changes to pension benefits for public workers (SB 151), an overhaul of Kentucky's tax code (HB 366), unemployment insurance reform (HB 252), and workers' compensation reform (HB 2), among other new laws. However, a measure that would have it made it an official violation for lawmakers or other legislative employees to sexually harass others stalled even in the wake of the #MeToo Movement. (HB 9).
The #MeToo movement
Among the many headline-grabbing issues swirling through the workplace, sexual harassment emerged, unsurprisingly, as survey respondents' principal preoccupation. About two-thirds ranked sexual harassment as the most or second-most concerning workplace issue of the past year, amid a steady cadence of high-profile accusations of misconduct that have left few industries unscathed. More than half of respondents (55 percent) said they have added training for supervisors and employees in the wake of the #MeToo movement. This very important and basic step helps employers prevent harassment from occurring and ensure that employees understand the company's procedures for reporting complaints.
While 38 percent of respondents have updated human resource policies or handbooks, only 13 percent said they have implemented new tools or investigation procedures to manage employee complaints. These two tactics typically work best together, so it is surprising to see such a broad differential between them. To truly change the culture and influence employee behavior, it is crucial that companies take the next step of ensuring that employees know what the policies are and that they are encouraged to make complaints about potential misconduct they have experienced or even witnessed as a bystander. The "silence is acceptance" ideology underlining the increased focus on "bystanders" taking an affirmative stand against harassing behavior that they have witnessed continues to be a central component of changing the culture and influencing how employees behave in the workplace.
Moreover, leadership's behavior is arguably the most important factor impacting workplace culture and influencing employee behaviors. As such, it is important that company leaders, managers and supervisors not only parrot the language used in anti-sexual harassment policies, but also exhibit conduct and behavior through their actions and statements in the workplace consistent with the policies' prohibitions and intended effect: eradicating sexual harassment in the workplace.
In addition to changing the workplace culture and influencing employee behavior, manager's statements and/or conduct is extremely important in employment discrimination cases given the Kentucky Courts of Appeal recent incorporation of the "cat's paw doctrine" in the proximate cause analysis. In the Lindsey v. Board of Trustees of the University of Kentucky decision, the Court of Appeals – in reversing the circuit court's grant of summary judgment to the employer on the employee's retaliation claim – explained that although the supervisor accused of retaliatory conduct did not have knowledge of the employee's protected conduct, her admitted testimony that she was pressured to "dig up dirt" on the plaintiff was enough to create a fact issue as to whether this supervisor was simply "the unwitting and proximate cause of an unlawful retaliatory intent by the higher-ups" within the employing organization.
The court explained as follows: "[t]his is known as the 'cat's paw' theory of liability. A plaintiff alleging liability under the cat's paw theory seeks 'to hold his employer liable for the animus of a supervisor who was not charged with making the ultimate employment decision.'" Accordingly, even if the supervisor lacked discriminatory intent, the employer may still be liable if the adverse action was caused by one of its managers or agents acting with a discriminatory intent.
Pay Equity
The related issue of gender pay equity was the second-most concerning issue for respondents, with 41 percent placing it among their top two concerns. States and cities across the U.S. are increasingly adopting laws intended to equalize pay between men and women, broadening existing laws, and prohibiting employers from asking about salary history, among other transparency measures. The issue also continues to be high on the public's radar as the gender pay gap persists. According to a U.S. Census Bureau report released in September 2017, women earn 80 cents for every dollar paid to men, and the gap is even larger for ethnic and other historically marginalized groups despite enactment of the Equal Pay Act ("EPA") in 1963.
Given the proven pay equity gap, in 2017, 4 states – California, Delaware, Maine and Oregon – have all banned an employer's ability to ask about or otherwise consider a candidate's pay history when setting salaries. Puerto Rico, New Orleans (for public employees), New York City, Philadelphia, Pittsburgh (for city employees), and San Francisco also have salary history bans. And similar laws are pending in more than 10 other states.
In addition to increased state and local legislative action, some states are broadly defining the equal pay standard. In lieu of the traditional "substantially similar" job comparison, some states have proposed legislation to require equal pay for "comparable work", Mass. Gen. Laws. Ch. 149 § 105, "substantially similar work," Cal. Lab. Code § 1197.5, and "work of comparable character." Or. Rev. Stat. § 652.220. Kentucky has a pay equity statute similar to the EPA that prohibits pay disparities because of sex for comparable work on jobs that have comparable requirements relating to skill, effort and responsibility. The statute does not address whether an employer may ask about salary history, and the legislature has not broadened the equal pay standard to date.
Finally, several states are also instituting pay transparency provisions that allow employees to openly discuss wages and protect employees for acts of retaliation for having such discussions. Because of the trends in state and local law, it is important that employers stay abreast of the law to ensure compliance not only with federal law but also with state and local laws.
It is also important for employers to consider performing routine self-audits. In fact, the majority of survey respondents (61 percent) reported conducting audits of current pay practices and salary data, which can be a helpful starting point to address pay equity in the workplace. Roughly one-third of respondents (34 percent) said they have revised hiring practices, such as updating applications and job descriptions, or ceased asking candidates about prior salaries. Adjusting hiring practices can be useful in correcting pay imbalances because differences in starting pay are difficult to reconcile later in an individual's employment.
Protections for whistleblowers
Even as federal protections for whistleblowers have expanded, employers can still take strategic action to protect themselves from employee theft of confidential and proprietary business information.
A substantial portion of survey participants said company culture was a powerful tool in diminishing the likelihood of employees stealing company information for use in whistleblower actions. The top two options selected – consistently emphasizing a "confidentiality culture" (37 percent) and creating a culture of trust with employees (32 percent) – both indicate that an encouraging number of employers understand the value of creating a culture of confidentiality and trust, along with policies and contracts. Many companies now understand that just rolling out non-disclosure agreements (NDAs) and policies is not enough protection.
A quarter of respondents said they had no employee theft protections in place. Others may have only weak or incomplete protections. This result is troublesome because the 2016 Defend Trade Secrets Act (DTSA) now provides civil and criminal immunity to employees who misappropriate trade secret information and provide it to government agencies or to lawyers for the purposes of reporting a suspected violation of law or supporting whistleblower retaliation claims.
Only 24 percent of respondents said they were monitoring their systems for unauthorized information removal. While cloud storage, email and USB drives have made accessing and moving company information almost effortless for employees, these same technological advances have created simple and ubiquitous tools that all employers should be using to monitor and restrict employee access to, and the ability to transfer, confidential business information.
---
LaToi Mayo and Jay Inman practice law in the Lexington, Ky., office of Littler Mendelson, the largest labor and employment law firm representing management. To access The Littler Annual Employer Survey, 2018, please visit: https://www.littler.com/2018-employer-survey.