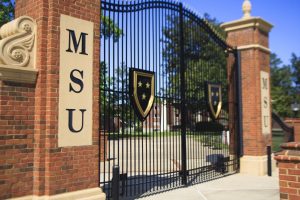 MURRAY, Ky. — Forbes magazine recognized Murray State University on its America's Best Colleges list for 2018 as the highest ranked regional public university in Kentucky. This marks the 11th consecutive year the university has been included on the prestigious list since its inception.
Rather than examining ACT/SAT scores and acceptance rates, the America's Best Colleges list takes a comprehensive look at the overall impact of institutions of higher education. Evaluators consider retention and graduation rates, alumni salaries, debt after graduation and signs of individual academic or career success.
Murray State, which is located in western Kentucky, offers 126 academic programs within six diverse colleges for undergraduate and graduate students looking to achieve their academic and career aspirations. Students are from 46 states and 55 countries, according to the university's most recent reports, with 51.9 percent of the fall 2017 freshman class ranking in the top 25 percent of their graduating high school classes. With small class sizes and more than 180 student organizations on campus, Murray State students find countless opportunities to learn more, do more and become more.
"Forbes' recognition of Murray State University, now for the 11th consecutive year, affirms that our students continue to receive a transformative experience at our institution," said Murray State Interim President Bob Jackson. "We're particularly proud of the many achievements of our students both inside and outside of the classroom, as well as the great support given to them by our faculty and staff who each day, make a tremendous difference in advancing the University."
Students interested in learning more about joining the next class of Racers are encouraged to visit murraystate.edu/myopportunity and to take a closer look at Murray State's numerous degree offerings at murraystate.edu/programs.