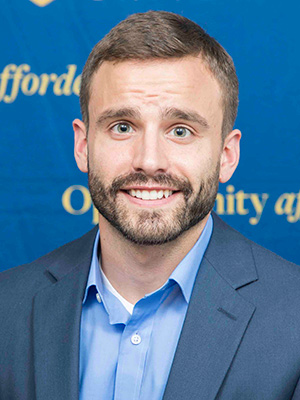 MURRAY, Ky. — Murray State University named Brian Canerdy as the new director of development for the Arthur J. Bauernfeind College of Business and for University Special Projects.
In this role, Canerdy will coordinate and facilitate fundraising efforts in scholarship endowment and other key initiative areas.
"Brian will do a great job serving as our newest director in Murray State's Office of Development," said Tina Bernot, executive director of development. "His passion for supporting our students and working with our alumni and donors will be a tremendous asset as he joins our team in raising private support for the university."
Canerdy, a Murray State alumnus, graduated as an outstanding senior in 2014. He most recently worked as a territory account manager for Republic Services in Mayfield, where he built long-term professional connections while managing several client budgets and accounts. He is an active member of the Murray State University Alumni Association and a founding member of the organization's new Young Alumni Council.
"As part of the Murray State alumni family, I can say I had an amazing experience on this campus," Canerdy said. "It is a true privilege to work alongside this team and the alumni of Murray State to strive toward a common mission. I am thrilled to be a part of keeping those experiences ongoing for current and future students of this great university."
As a development director for the university, Canerdy will be responsible for securing gifts from alumni and friends to support students, faculty and staff in scholarship areas, programmatic and technological enhancements and capital improvements.
"We are thrilled to welcome Brian to the Arthur J. Bauernfeind College of Business team," said Dr. Tim Todd, college dean. "As a Murray State alumnus, Brian is in a unique position to help move the Arthur J. Bauernfeind College of Business forward, and we are honored to welcome him."