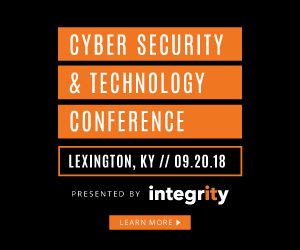 The Lane Report, a sponsor of the 2nd annual Cybersecurity and Technology Conference, is offering free tickets to this valuable daylong event to the first 20 individuals to sign up using our promo code (see below).
Sixty percent of small businesses hit by successful cyberattacks collapse within six months. Not surprisingly, cybersecurity has been one of the highest priority management issues for small, medium and large enterprises in recent years.
Are you comfortable with your network security and incident plan? Is your staff following best practices and doing everything within its means to protect your business infrastructure and data?
Most businesses are not as prepared as they think.
On Sept. 20, you can join regional business executives and national technology experts for the daylong Cybersecurity and Technology Conference and harden your defenses with knowledge and tools that reduce risks and create a cyber-safe culture throughout the organization. This conference will address the changing threat landscape, insider threats, resources and ways to protect your business.
The agenda includes presentations on building and maintaining a security culture, the latest technology to handle the latest threats, how to leverage open-source tools into comprehensive protection, and how to put together an effective recovery plan for your operation.
Participating business will receive a FREE DarkWeb scan to see if their credentials are being sold by hackers.
Every business will receive a FREE online Cybersecurity Training Platform to boost its front-line defense and strengthen its weakest link.
To register, please go to: https://www.eventbrite.com/e/2nd-annual-cyber-security-technology-conference-2018-tickets-37220436327?aff=TLR
Use promo code "LaneReport" and if you're one of the first 20 to sign up, you will receive a complimentary ticket.
Integrity IT Cyber Security & Technology Conference
Sept. 20, 2018
8 a.m. – 5 p.m.
Distillery Square at the Grand Reserve
903 Manchester Street
Lexington, KY 40511
Presented by

Sponsored by:
The Lane Report, Kentucky Aerospace Industry Consortium, Sophos, iHeart Media
IT'S FREE | Sign up for The Lane Report email business newsletter. Receive breaking Kentucky business news and updates daily. Click here to sign up