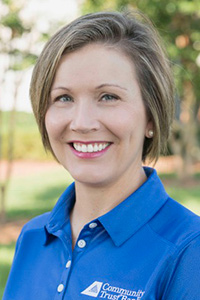 VERSAILLES, Ky. — Stephanie Perry has joined the Community Trust Bank family as the Woodford Plaza branch manager in Versailles, Ky., Billie J. Dollins, Versailles market president, announced Thursday.
Perry has worked in the banking industry for more than 14 years, with a background in audit, marketing, branch management and employee benefits. Her duties as branch manager include providing consumer, residential and commercial lending options to new and existing client relationships, overseeing the daily operations of the branch office, and calling on existing and prospective clients to develop new business and to retain and expand existing business.
Her office is located at 470 Lexington Road in Versailles, Ky.
Perry received her bachelor of business administration from the University of Kentucky. She graduated from Bryan Station High School. Her continuing education includes:  Kentucky Bankers Association (KBA) Principles of Banking, KBA Branch Management Certification and American Bankers Association (ABA) Introduction to Trust Products and Services Certificate.
Perry lives in Versailles.