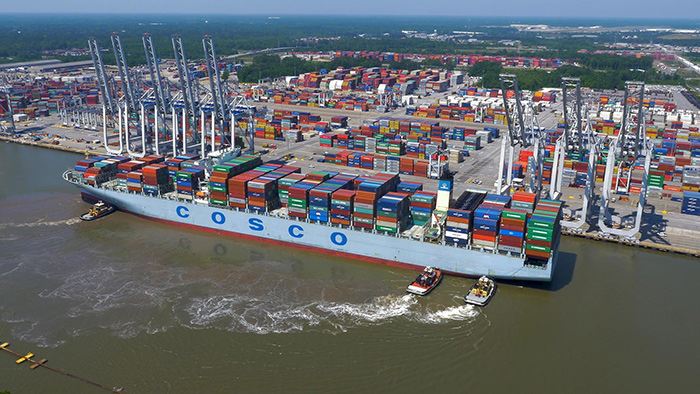 LEXINGTON, Ky. — World Trade Center Kentucky will lead nine Kentucky business representatives on a trade mission to Georgia Ports Authority in Savannah, Ga. Sept. 19-21.
"We are excited to add port missions to our suite of services," said Ed Webb, president of the World Trade Center Kentucky. "Our clients are moving cargo in and out of the Port of Savannah. It is critical that we provide opportunities for them to see the entire process from beginning to end. World Trade Center Kentucky worked closely with World Trade Center Savannah and Georgia Ports Authority to plan a unique combination of tours and presentations."
The Center organizes trade and business missions to provide Kentucky business owners with the opportunity to establish connections with prospective buyers and suppliers and the opportunity to meet with government officials.
Erran F. Persley, executive director of international affairs and business development, Kentucky Cabinet for Economic Development said, "Inland river ports with their access to coastal facilities are an integral component of Kentucky's transportation and economic system. Ninety-five percent of all U.S. trade passes through our nationwide system of over 260 ports. Our port trade is vitally important to Kentucky's economy and the international movement of goods and materials. Participants in the World Trade Center Kentucky's first ever mission to the Port of Savannah will have an opportunity to witness first-hand the economic power of our U.S. ports. Ports are big business and are vital to our state's domestic and international growth."
Along with a private tour of the port operations, mission attendees will gain a deeper understanding of the mechanics of ocean freight movement and network with companies who are leaders in supply chain optimization. Kentucky business representatives will also visit Georgia-based companies who are currently utilizing the Port of Savannah and will attend the Port Day luncheon, which attracts over 1,500 companies. As an added bonus, the WTC-KY will provide a customized trade statistics report covering each company's products.