By Kathie Stamps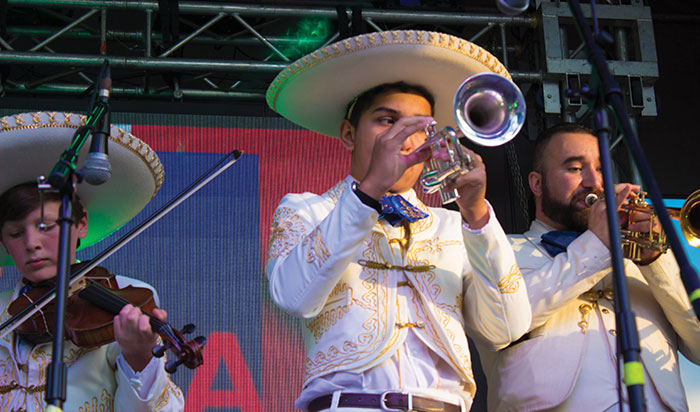 Lexington attracts tourists and relocating businesses for many reasons, one being that it is literally attractive.

There has never been a shortage of artists in Central Kentucky. Local communities boast galleries and artist co-ops, local theaters allow children to get involved and dancers, musicians and sculptors alike all find homes in the region's inviting communities. Individuals, organized groups, corporations and the city government itself have an intrinsic appreciation of the arts.
The Corridors Commission has installed landscaped art in the form of attractive plantings on Main Street and Oliver Lewis Way, in the median of Newtown Pike at I-75 and on Man O' War at Versailles Road. Lexington-Fayette Urban County Councilmember Bill Farmer chairs the Corridors Commission, which is tasked with managing the look and feel of Lexington's gateways to the city. He is proposing a Percent for Art program for Lexington to set aside 1 percent of the cost of capital improvement projects for public art.
"There's a thirst for that from the public and the council," Farmer said of big art projects.
Approximately 350 U.S. cities, from Indianapolis to Seattle, have public art programs. The process for Lexington will involve council approval of the Percent for Art resolution, input from the public, the drafting and subsequent revising of a Public Art Master Plan for the city and the establishment of a Public Art Acquisition Fund. The fund would enable works of art to be commissioned and provide for the installation and maintenance of public art on property owned or operated by the Urban County Government.
If passed, the fund will "look at Lexington as a canvas," Farmer said, "to bring things that are tactile, more powerful and stand out to the public."
"There's this unspoken need for art all the time – music, public art, everything – and Lexington has some of the best talent in the country," said Donald Mason, executive director of the Lyric Theatre and Cultural Arts Center.
Built in 1948, the Lyric Theatre closed in 1963. It was renovated and reopened in 2010 to bring in musical performers and films to its 520-seat theater. The Lyric also offers youth-centric educational programs, a monthly Feed the Soul luncheon series, a dance event called Fun Fridays, art pieces throughout the entire building and rotating exhibits in the second-floor gallery. Venue rental is the main source of revenue for the center.
Mason would like to see a restaurant or two open in the downtown neighborhood near the center. "The East End is a diamond-in-the-rough area from a commerce perspective," he said.
Although the 2018 Fund for the Arts campaign for LexArts fell short of its $1.2 million goal, corporate giving was up 4 percent and individual donations were up 19 percent from last year. For fiscal year 2019 that began July 1, 2018, LexArts is providing funds for six General Operating Support partners: Carnegie Center for Literacy and Learning; Central Kentucky Youth Orchestras; Lexington Art League; Lexington Children's Theatre; Lexington Philharmonic; and the Living Arts and Science Center. A dozen programs and 15 projects are receiving community arts development grants from LexArts. Dozens of seasonal ARTy pARTies hosted by individuals or couples take place at their homes or small venues as LexArts fundraisers. ARTy pARTies in the fall of 2017 raised $55,000.
As founder and owner of Arts Connect, Kate Savage typically works on several artistic projects at once. She runs a mobile gallery for rotating original artwork in corporate spaces, produces seasonal luncheon programs and cultural trips to other states, and coordinates the annual Paint the Town outdoor event for artists every June; 61 pieces of downtown Lexington were painted in 2018.
Savage is also the brainchild behind the Book Benches project – bus stop seating that looks like large, open books – as she saw a similar project in her native country of England four years ago.
"I thought that was a cool idea and would transfer easily to Lexington," she said. "I approached LexArts and the Carnegie Center. They like to collaborate, and they were both enthusiastic."
Artists painted 38 benches by paying tribute to 38 books by Kentucky authors. The benches will be on display throughout Lexington until October, with an auction scheduled for Nov. 17.
In Paris, Hopewell Museum has become the center of art and culture, history and historic preservation in Bourbon County. Founded in 1994 in a Beaux-Arts building from 1908, the museum is funded by private donations, grants and memberships. Community offerings include public lectures, a monthly Free Family Fun Day, spring and fall art walks in participation with downtown businesses of Paris, the annual Cookies With Santa party, juried art shows and at least three historical and artistic exhibits each year.
Woodford County, meanwhile, is growing fast and the local theater there is staying busy.
"Investing in the arts, especially theater, is investing in human and civic potential," said Trish Clark, executive and artistic director of Woodford Theatre in Versailles. "Participating in a theatrical production develops the very qualities that define good citizens: commitment and discipline, a spirit of cooperation and creative problem-solving skills."
Established in 1987 as the Woodford County Theatrical Arts Association, Woodford Theatre saw patrons from 56 Kentucky counties during its 2016-17 season. More than 2,500 students from ages 8 to 18 participate annually in the theater's Summer Academy, Woodford Theatre Young Artists program and the Girl Project Next Generation, among other programs and outreach services.
"The arts celebrate all that is good in us, and shine a light on that which needs repair," Clark said. "Simply put, the arts change lives."
LEXARTS
161 North Mill Street
Lexington, KY 40507
(859) 255-2951
lexarts.org
LexArts works for the development of a strong and vibrant arts community as a means of enhancing the quality of life in central Kentucky. Through its annual Fund for the Arts, LexArts raises millions of dollars in support of local arts, and, in turn, underwrites operating expenses of Partner Organizations, awards Community Arts Development grants and offers affordable rehearsal and office space for arts organizations.
Festival Scene
March
• St. Patrick's Parade & Festival
April
• International Kite and Culture Festival, Georgetown
• Lexington Kite Fest
May
• Art in the Park, Versailles
• Chamber Music Festival of the Bluegrass at Shaker Village
• Francisco's Farm Arts Festival, Midway
• Mayfest Arts Fair
June
• Beer Cheese Festival, Winchester
• Festival of the Bluegrass
• Great American Brass Band Festival, Danville
• Lexington Pride Festival
• Paint the Town
July
• BreyerFest, Kentucky Horse Park
• Fourth of July Festival
• SummerFest at Woodland Park
August
• Berea Celtic Festival
• Crave Food + Music Festival
• Daniel Boone Pioneer Festival, Winchester
• Red, White & Boom Music Festival
(now at Rupp Arena)
• Shaker Village Craft Fair, Harrodsburg
September
• Christ the King Oktoberfest
• Festival Latino de Lexington
• Festival of the Horse,
Downtown Georgetown
• Kentucky State BBQ Festival, Danville
• Roots and Heritage Festival
October
• Court Days, Mt. Sterling
November
• Kentucky Book Fair, Kentucky Horse Park
African American Forum
aafinc.com
Berea Arts Council (Berea)
bereaartscouncil.org
Blackbird Dance Theatre
blackbirddancetheatre.com
Bluegrass Youth Ballet
bluegrassyouthballet.org
Carnegie Center for Literacy and Learning
carnegiecenterlex.org
Central Kentucky Youth Orchestras
ckyo.org
Central Music Academy
centralmusicacademy.org
Eastern Kentucky University Center for the Arts (Richmond)
ekucenter.com
Grand Theater (Frankfort)
grandtheatrefrankfort.org
Headley-Whitney Museum
headley-whitney.org
Innovation Arts Academy
innovationarts.net
Institute 193
institute193.org
Kentucky Arts Council (Frankfort)
artscouncil.ky.gov
Kentucky Ballet Theatre
kyballet.com
Kentucky Repertory Dance Theatre
krdt.org
Leeds Center for the Arts (Winchester)
leedscenter.org
Lexington Art League
lexingtonartleague.org
Lexington Ballet
lexingtonballet.org
Lexington Chamber Chorale
lexingtonchamberchorale.org
Lexington Children's Theatre
lctonstage.org
Lexington Community Radio
lexingtoncommunityradio.org
Lexington Opera Society
lexingtonopera.com
Lexington Philharmonic
lexphil.org
Lexington Public Library
lexpublib.org
Lexington Singers
lexsing.org
Living Arts & Science Center
lasclex.org
Lyric Theatre & Cultural Arts Center
lexingtonlyric.com
Norton Center for the Arts (Danville)
nortoncenter.com
Red Barn Radio
redbarnradio.com
Richmond Area Arts Council
artsinrichmond.org
Singletary Center for the Arts
finearts.uky.edu/singletary-center
Studio Players
studioplayers.org
University of Kentucky Art Museum
finearts.uky.edu/art-museum
Woodford Theater (Versailles)
woodfordtheatre.com
Woodsongs Old-Time Radio Hour
woodsongs.com