By Abby Laub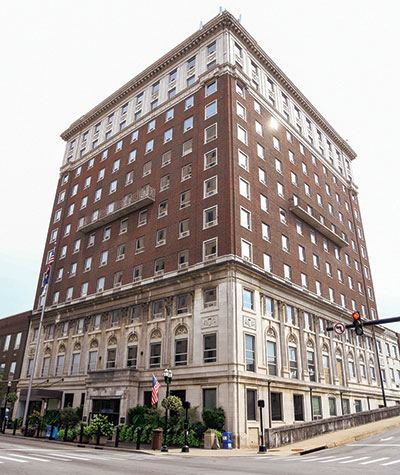 LEXINGTON is buzzing with excitement in 2018 as construction transforms the city's core. The long-awaited $200 million-plus City Center project is inching closer to completion, and ground was broken this summer on Town Branch Commons and the $241 million expansion of Lexington Center and reinvention of Rupp Arena.
"Lexington is a Great American City where everyone is welcome," Mayor Jim Gray said. "Our quality of life is high, and there are opportunities for jobs with a future."
Gigabit City
Lexington will soon be the nation's largest gigabit city, as MetroNet invests $70 million to build a fiber optic network. The Indiana-based telecommunications company recently activated the network, serving its first subscribers with some of the fastest internet speeds in the world.
"That's the fuel needed by a University City with expanding technology jobs and advanced industries across the City," Mayor Gray said.
Food and Drink
Lexington is increasingly known for its food and drink scene. The revitalization of the historic Distillery District has brought bourbon production back to Lexington. Tourists have swarmed to the Bourbon Trail.
"Our restaurants routinely win national recognition," Mayor Gray said. "We've been ranked as one of the 30 most exciting food cities in America. Investments in new restaurants have transformed Jefferson Street, and the Barn at the Summit at Fritz Farm has been ranked as one of the 10 most delicious food halls in America."
Entertainment
Residents of Fayette County enjoy amenities like The Red Mile, Keeneland Race Course, the Lexington Philharmonic, historic McConnell Springs, Raven Run nature sanctuary, and so much more. Lexington's city limits have offerings as diverse as downtown art gallery hops and wooded hiking trails less than three miles away. Also, the University of Kentucky Wildcats have one of the nation's most enthusiastic collegiate sports fan bases, injecting the excitement of Southeastern Conference competition into the college town culture.
The completion of Town Branch Commons will mean Lexington has 22 miles of uninterrupted trail. "Town Branch Commons will create new opportunities as it moves through our downtown. It is a linear park that will connect rural to urban; our history to our future; trail to trail; and park to park downtown," Gray said. "Town Branch will have a lasting impact on our city and its citizens."

City budget
Over the past eight years, Lexington has worked through budget issues to create a more financially healthy city, making public investments in quality of life possible.
"In my first year as mayor, we inherited a city in a tough financial condition," Gray said. "A $9 million hole in the 2011 budget, and a $27 million shortfall projected for the next year.
By focusing on job creation and government efficiency, we have turned our finances around and created surpluses in each of the last seven years. Lexington has been ranked as one of the best managed cities in the country. Now we are able to make investments that build quality of life, which in turn attracts new employers and good jobs to Lexington, growing our economy."
In July 2018, WalletHub ranked Lexington as the nation's fourth best run city, after comparing the operating efficiency of 150 of the largest U.S. cities.
Schools
Lexington has one of the most highly educated workforces in the country, thanks to a talented pool of graduates from its universities, including the University of Kentucky, Transylvania University, Sullivan University and Bluegrass Community and Technical College.
Education begins with a progressive and growing school scene – Fayette County Public Schools added three new schools in the last two years, including an ultra modern sixth major high school. And the new programming offered through its Academies programs is keeping FCPS students in step with future workforce demands.
Business
Lexington is a major business, financial, retail and hospitality center. It is home to international headquarters such as Valvoline, Lexmark, Florida Tile and A&W Brands. Partnering with the University of Kentucky in a land swap, Lexington will have 250 acres of new economic development land to continue to grow our economy.
The housing market also reflects Lexington-Fayette's growing economy. The Lexington-Bluegrass Association of Realtors, or LBAR, has 3,200 member Realtors in 22 counties – soon to be 26, pending national approval of the Madison County
Board of Realtors consolidating with LBAR. In the first half of 2018, LBAR members in Fayette County represented 2,384 residential sales.
Lexington-Fayette Urban County Government
MERGED CITY/COUNTY:
LEXINGTON
Jim Gray, Mayor
200 E. Main St.
Lexington, KY 40507
(859) 258-3100
lexingtonky.gov
FAYETTE COUNTY
JUDGE-EXECUTIVE
Jon Larson
215 W. Short St., Suite 210
Lexington, KY 40507
(859) 351-2266
FAYETTE COUNTY CLERK
Don Blevins Jr.
162 E. Main St.
Lexington, KY 40507
(859) 253-3344
fayettecountyclerk.com
Estimated 2018 Population: 326,025
No. of households: 125,752
Median household income: $50,661*
* In 2016 dollars