By Matt Wickstrom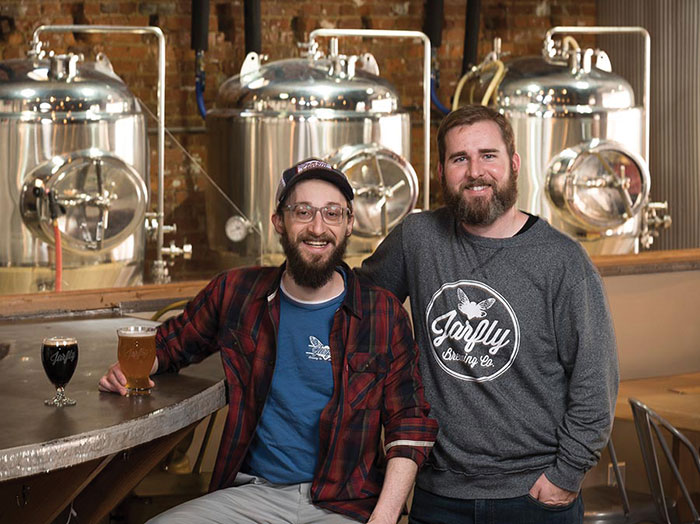 Pubs and bars have long been a communal gathering spot to blow off steam at the end of the day and catch up with friends. However, Daniel Stroud, 34, and Del Stephens, 31, of Jarfly Brewing Co. in Somerset have reinvented the wheel, merging beer and local arts to provide a space unlike anything else to pop up in south-central Kentucky.
Jarfly Brewing opened in 2016 in the former Goldenberg Furniture space in Somerset's blossoming downtown, a building constructed in 1904 and vacant for nearly a decade before Stroud and Stephens acquired it. The space needed a monumental facelift; there was dilapidated carpeting, mirrored walls, and ceilings covered after multiple renovations in its 100-plus years.
Stroud, who had experience in construction and automotive design, treated the project as an archaeological exhibit. They uncovered piles of reclaimed wood from the furniture store and moved it to the vacant third floor to use as salvage in future projects. Many bar stools and tables in Jarfly are from that wood, which the duo jokingly refers to as "OG" or "Original Goldenberg's."
Wanting a name for the brewery that was "created in the mountains," Stroud began studying folk etymology with an Appalachian glossary when he came across the term jarfly, the Appalachian word for cicada. He recalled the mystique of the insects, which make a distinctive buzzing sound and burrow underground, in some cases not emerging again for 17 years. Now, much like the real-world jarfly, the brewery has begun to make a buzz of its own around Somerset.
Jarfly serves a variety of beers, from its ever-popular 76 Falls, a blonde ale paying homage to Lake Cumberland, the area's prominent tourist attraction, to the rich, dark and bitter Ballhoot Black IPA. The brewery partners with local businesses on special brews and has yearly collaborations with Lexington's West Sixth Brewing and the Kentucky Department of Agriculture on a Kentucky Proud beer.
Beyond the drinks, much of Jarfly's buzz has revolved around its involvement within the community. Partnering with the Watershed Arts Alliance, a nonprofit working to bring arts and cultural programs to Pulaski County, the brewery regularly hosts musicians and provides space for concerts and meetings. The work of local artists adorns the walls.
Jarfly has also partnered with local music-video production company SomerSessions, which in December opened Pure Grain Studios on the second floor. Now equipped with a sound stage and space for intimate concert experiences, this will be an expanded hub for SomerSessions to record and produce video.
Jarfly's community involvement includes partnering with local farmers. The brewery donates spent grain to them as feed for chickens, hogs and other animals and purchases local jalapenos, mushrooms, persimmon and other ingredients for their concoctions. Stroud said their Jalapeno Common Ale, infused with the flavor but not heat of jalapenos, was initially planned as a one-off brew before customers began bringing in their own jalapenos for the brewery to use in future batches. Utilizing these and other local resources has been, and always will be, part of Jarfly's mission, according to Stroud.
"Anytime we can source locally for our beers, it makes the beers better," he said.
The success of the brewery is a definitely a reflection of the owners. Stroud has a strong pedigree in working with local artists and community organizing while Stephens specialized in nonprofit management and community and leadership development after graduating from the University of Kentucky's College of Agriculture, Food and Environment.
Jarfly is currently in the process of expanding its production by five times to meet a growing distribution demand, which now reaches every corner of the commonwealth. The brewery, which distributes kegs, plans to be canning product by the end of 2019. For more information visit jarflybrewing.com.