FRANKFORT, Ky. — The Kentucky Chamber of Commerce will host the Kentucky Opioid Summit, an inaugural event that will address the opioid crisis, its impact on the workforce and how the business community should respond, June 24 at the Griffin Gate Marriott Resort and Spa in Lexington.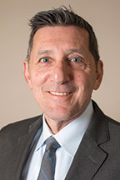 Michael Botticelli, director of National Drug Control Policy (drug czar) during the Obama administration and executive director of the Grayken Center for Addiction, Boston Medical Center, will give the Opening Keynote: The Opioid Epidemic in the Workplace: How Employers Can Respond.
The summit will examine the impact the opioid epidemic has had on employers and the economy. Based on the Grayken Center's Employer Resource Library, this session will give practical and actionable examples of how employers can play a leading role in changing the trajectory of the epidemic. Click here to learn more about the speaker.
The summit's agenda is currently under development. Additional details will be forthcoming.
Who should attend
Professionals involved in managing staff, operations and security — everyone from the CEO to the HR manager.
Professionals in:
Healthcare and Wellness
Human Resources
Workforce Development