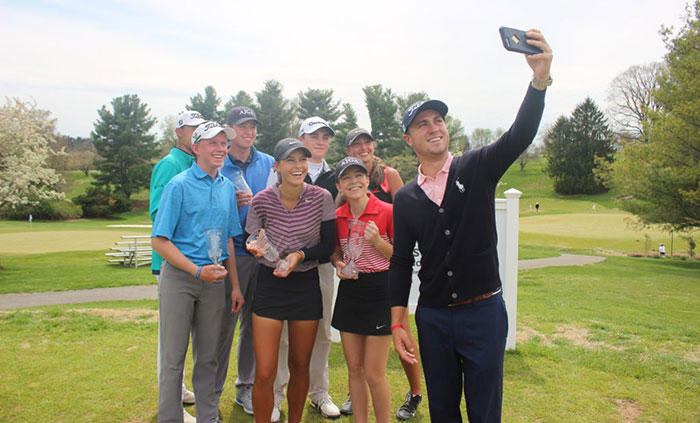 LOUISVILLE, Ky. — Major golf champion and Louisville native Justin Thomas has made a name for himself on the PGA Tour since turning pro in 2013. While he has built a reputation for being a fierce competitor on the course, he has also made a name for himself off the course.
Justin Thomas and his family will formally launch the Justin Thomas Foundation in Louisville on Wednesday. While quietly using his fame and financial wherewithal to help many over the past few years, Thomas and his family feel the time is right to establish a foundation that can partner with others to positively impact philanthropic organizations and communities.
The mission of the Justin Thomas Foundation is to positively impact children in need, junior golf and military families with the intent of helping all achieve their full potential. The goals of the Justin Thomas Foundation reflect the altruistic aspirations of the Thomas family. By funding programming and fulfilling requests of those in need, they are committed to making a difference in the world.
"My family and I are excited to formally launch my foundation," Justin Thomas said. "A lot of people in this community supported me and my family while I was growing up. Without their encouragement and a locally-funded grant or two, I'm not sure I'd be where I am today. I am pleased to be able to offer kindness to others, the way it was shown to me."
"Justin has been an inspiration to our kids for years, and we are so proud of him for formally establishing his foundation," said Jennifer Helgeson, president and CEO of the Boys and Girls Clubs of Kentuckiana. "He has visited our club on numerous occasions, always sitting down with our teens to hear their perspective. He is passionate about our community and has given to our members in means and ways some will remember for the rest of their lives."
Over the past few years, Thomas has contributed a substantial amount to The First Tee of Louisville. The City of Louisville plans to thank Thomas by naming the 3-hole First Tee Youth Course at Shawnee after him.
"While we are all proud of Justin for being an extraordinary professional golfer, many of us are even more taken with his compassion and desire to enrich the lives of others," said Louisville Mayor Greg Fischer. "The city is very pleased he is launching his foundation here, at home, and we are even more delighted to name the youth course at Shawnee after this young man who is giving back to our community."
"The First Tee of Louisville is very proud to have Justin and his family as supporters of our program," said D'Shawn Johnson, executive director of The First Tee of Louisville. "Their commitment of time and resources to our organization has allowed us to have a greater impact on the over 500 youth we serve. Justin is a role model for our kids and we are genuinely grateful for his support."
At the onset, the Justin Thomas Foundation will benefit the following charities: Boys & Girls Clubs of Kentuckiana; The First Tee of Louisville; the Kentucky Golf Foundation; The First Tee of Tuscaloosa; Convoy of Hope; and Folds of Honor.
A dinner celebrating the launch of the Justin Thomas Foundation will take place at the Louisville Marriott Downtown Wednesday evening. Guests will enjoy a silent auction, live entertainment by Kelley James, a Justin Thomas interview with former PGA Tour professional and golf commentator Peter Jacobsen, and more. All net proceeds will benefit The First Tee of Louisville, the Boys & Girls Clubs of Kentuckiana, and the Justin Thomas Foundation, for distribution at a later date.