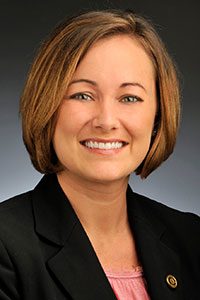 LEXINGTON, Ky. — Lesley Catron has been promoted to Central Bank assistant vice president, marketing, Chairman, President & CEO Luther Deaton Jr. announced recently.
Catron began her career at Central Bank in 2003 and has worked in marketing since 2007. In her current role, she manages the bank's marketing department and oversees advertising for Central Bank. A native of Eaton, Ohio, she moved to Kentucky to attend Eastern Kentucky University, where she received her bachelor's degree in marketing.
In addition to her undergraduate studies, Catron is also a graduate of the ABA School of Bank Marketing and Management. An active member of the Lexington community, she is a board member for Children's Charity and the Lexington Postal Customer Council.