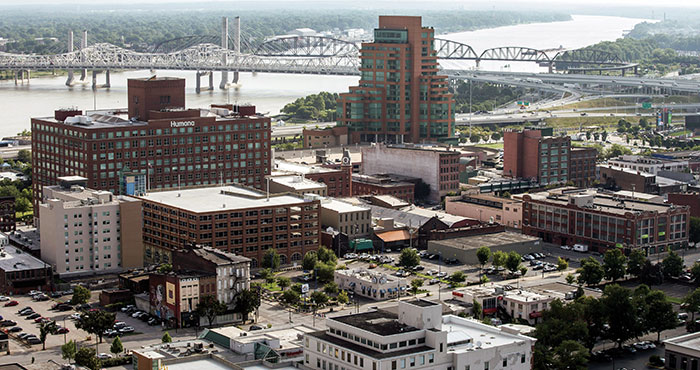 Growing the region's economy is the main focus of Greater Louisville Inc. (GLI) – the Metro Chamber of Commerce. As the region's largest convener of business leadership, GLI leads economic and global outreach strategies focused on business attraction, nurtures the entrepreneurial ecosystem, and champions the development of the community's talent base.

GLI advocates for a pro-business environment and facilitates businesses' engagement on issues that impact regional competitiveness.
One of the organization's main focuses this year is raising awareness about the region's fastest growing job sector: Technology. GLI declared 2019 as the Year of Tech for the region at its annual meeting. The Louisville Metro area is an emerging technology hub, and through the declaration, GLI is shining a spotlight on efforts to build the region's digital future – to raise awareness, build consensus and ultimately, galvanize support for Louisville's growing tech economy.  
Louisville will always have its core sectors of aging care, food and beverage, logistics and advanced manufacturing, said Kent Oyler, GLI president and CEO.
"But we turn to tech to reprioritize investment, create jobs and more opportunity. And every company is now a tech company to some degree," Oyler said.
The region must turn to tech because 48% of jobs in the Louisville Metro area – 391,000 – are at risk for disruption or elimination through automation and AI in the next 20 years. Among the most vulnerable are those in office administration, production, transportation, and food preparation, he said.
---
IT'S FREE | Sign up for The Lane Report email business newsletter. Receive breaking Kentucky business news and updates daily. Click here to sign up
---
The region must prepare its workforce for the digital wave, which is sweeping over the area now and will reach into "pretty much every field," Oyler said at GLI's annual meeting.
"The future is exciting and bright if we decide to skill up our workforce for these jobs of the future, and not very bright if we don't," he said. "We are in a competition like no other for the companies and jobs of the future and we are not yet prepared."
Louisville must attract new tech talent, but also retrain its current workforce. A new GLI partnership with UofL, LHCC and XlerateHealth, called LEAP, will help reinvigorate tech-based entrepreneurship and prepare workers for the tech economy.
Through Live in Lou, GLI's talent attraction initiative, more tech workers are being recruited to the region. The Live in Lou website (liveinlou.com) is a resource for those who are thinking about moving to the area, touting its affordability, diversity, unique neighborhoods, entertainment attractions and expanding job market.
The website also serves as a job board for local tech jobs.
The region currently has 1,300 tech companies employing 20,000 people.
Engaging with tomorrow's workforce
GLI connects businesses and investors with opportunities to engage with tomorrow's workforce and is committed to ensuring that our region's workforce innovations are utilized to their fullest capacity through several initiatives, including: 
• Academies of Louisville. GLI works closely with Jefferson County Public Schools and KentuckianaWorks to support the Academies of Louisville and facilitate robust school and business partnerships. The Academies program represents a groundbreaking shift in education. Businesses partners offer curriculum support, interact with students in the classrooms through presentations and project-based learning, host field trips and provide opportunities for student employment. Students who attend the Academies graduate with real-world credentials, certifications, work-based learning experiences and strong soft-skills. More than 100 business partners participate in the program.
• Regional economic development and workforce steering committee. GLI regularly convenes its regional partners to discuss workforce and education challenges and best practices. It understand that the community's population crosses county and state lines for both education and work. GLI is developing bi-state multi-county approaches to workforce development.
• Summerworks. GLI serves as a champion for Summerworks, a program designed to help young people in the Greater Louisville region find high-quality, paid summer jobs. The organization works with the team at KentuckianaWorks to recruit business participants and promote youth employment opportunities in Jefferson County.
• Talent Pipeline Management (TPM). GLI was selected by the Kentucky Chamber Workforce Center to promote the U.S. Chamber's TPM project, which is a supply chain approach to workforce development. In collaboration with KentuckianaWorks and other regional partners, GLI assembles employer collaboratives to address industry specific pain points, increase the regional talent pool and encourage dialogue between training providers, educators and hiring managers.
• Workforce connections. GLI's staff has expertise in navigating the Greater Louisville workforce ecosystem. We are happy to help investors make connections to pipeline programs. It offers resources and events to help facilitate relationship building between education and training programs and employers with workforce needs.
• Workforce think tank. The chamber collaborates with the business community to develop a workforce taskforce, comprised of community leaders, human resources managers and education providers. The group works to solve common workforce issues, such as transportation, childcare and hiring regulations.
"We understand the need for second chance employment, wrap-around services for opportunity youth, immigration reform and the impact of the national opioid crisis," GLI said. "We are developing resources, programs and initiatives to address these issues."
• Finding health solutions. GLI partners with Humana to help businesses with one of their largest expenses: health insurance. The HealthSolutions plan is available exclusively to investors who join an employer industry sub-association. Businesses that enroll in the special association plan can potentially save between 5 to 20% on health insurance premiums. (Find out more
at greaterlouisville.com/chamber/
health-solutions)  
Learn more about the region, and about GLI, by visiting greaterlouisville.com.