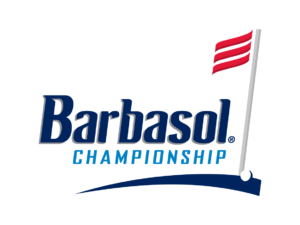 NICHOLASVILLE, Ky. — The Barbasol Championship announced today the 2019 Merrill Executive Women's Day will be held at Champions at Keene Trace on Wednesday, July 17 in conjunction with this year's Barbasol Championship. Hosted at PGA TOUR tournaments in communities nationwide, Executive Women's Day is a forum that brings together hundreds of local business leaders and innovators for a day of corporate dialogue, networking, idea sharing and development.
Speakers will share their stories and journeys from breaking the glass ceiling, empowering and educating, and giving back to the community. Enjoy a day to ask questions and learn a little about golf too!
"I look forward to sharing the 4 F's that brought me to an A in life," said Mollie L. Brennan, senior resident director, Merrill Lexington.
The 2019 Merrill Women's Executive Day speakers include:
Mollie L. Brennan, senior resident director – Merrill Lexington 
Brennan joined Merrill Lynch as a financial advisor in 1994. Her desire to become an advisor grew out of personal experience. She vividly remembers the market swoon on Black Monday in 1987, when her family lost money on many of their investments. Although she was just 14 at the time, that life-changing experience became the catalyst for Brennan to study the markets. She brings a perspective to individuals, families, and businesses that has been forged from first-hand knowledge of the thin line that separate success from financial challenges.
Brennan studied at both the University of North Carolina at Chapel Hill and at Western Kentucky University, earning a Bachelor's degree in Marketing and Economics. She is a Certified Investment Management Analyst professional and is the senior resident director for Merrill Lynch Lexington. Brennan is also active in her community where she has served on the executive board of the Children's Charity Fund of the Bluegrass and as the chairman of Finance for Calvary Baptist Church as well as the board of deacons. Brennan, her husband, Buck, and three children reside in Lexington.
Emma Tiedemann, director of Broadcasting and Media Relations – Lexington Legends
Tiedemann is in her second season with the Lexington Legends as the director of Broadcasting and Media Relations. She broadcasts all 70 home games while also handling media relations responsibilities.
When she is not on the air, she runs the team's social media accounts and the AV department. Prior to the Legends, Tiedemann was the Broadcast and Media Relations assistant for the St. Paul Saints, an independent baseball team.
She spent 2015 and 2016 in Medford, Oregon as Broadcast and Communications manager for the Medford Rogues, a collegiate summer team. Born and raised in Dallas, Texas, Tiedemann graduated from the University of Missouri in 2015. In 2014, she was part of the broadcast duo for the Mat-Su Miners in Palmer, Alaska.
Susan Bond-Phil – PGA professional
Bond-Phil is a twenty-eight-year member of the PGA of America. Since 2015 she has been serving as a PGA Member relationship manager for PGA Magazine. There, Bond-Phil directs the Women's Leaders Platform. This is an effort she created and has grown. The platform, whose goal is to grow female involvement and participation in the ranks of the PGA of America, now includes nearly 400 of the 1100 Female PGA members.
Bond-Phil's professional experience also includes seventeen years as a head professional at Weekapaug Country Club in Westerly, Rhode Island, time as a teaching professional, and time as an independent sales representative.
An accomplished competitor, Bond-Phil recently played in the US Senior Women's Open. She was captain of her Alabama Women's Golf Team where she earned a degree in advertising. She has numerous professional victories including three New England Women's Open crowns and a Massachusetts Women's Open victory.
Bond-Phil has served as a board member and officer in the New England PGA and continues to contribute to the association and the game through numerous volunteer efforts.
The 2019 Merrill Executive Women's Day will be hosted by Dia Davidson from LEX18.
2019 Schedule of Events
8:00 AM – 8:30 AM: Registration
8:30 AM – 11:30 AM: Welcome & Panel Speakers
11:30 AM – 12:30 PM: Brunch & Keynote Speakers
12:30 PM – 1:00 PM: Break
1:00 PM – 2:00 PM: Afternoon Speakers & Wrap Up
2:00 PM – 3:00 PM: PGA Golf Women's Clinic
Tickets are $50 per person or $400 for a table of ten and can be purchased at barbasolchampionship.com/tickets/ewd/.