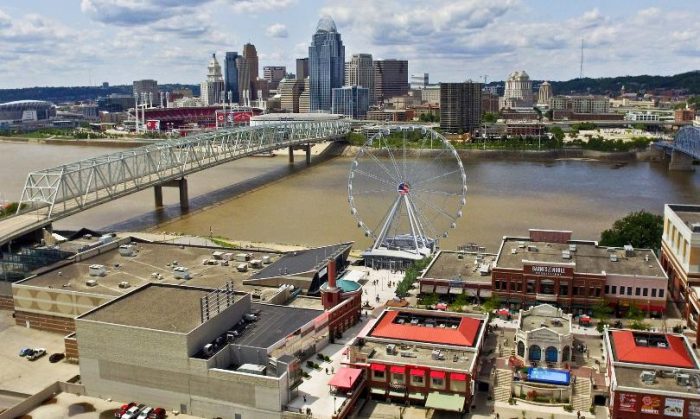 NEWPORT, Ky. — The U.S. Army of Engineers has informed The City of Newport that it has approved the permit for construction of SkyWheel, the riverfront observation wheel planned for the city's popular riverfront.
The 230-foot tall SkyWheel featuring 30 climate controlled gondolas will be built at Newport on the Levee adjacent to the Newport Aquarium by Koch Development of St. Louis. The project will include the construction of an approximately 13,000-s.f. concrete pedestal along the Ohio Riverbank that will connect to Newport on the Levee via a 40-foot wide plaza extension.
"Newport on the Levee, the Newport Aquarium and now SkyWheel," said Newport City Manager Tom Fromme. "What a terrific lineup for the Newport riverfront and the entire region."
"The SkyWheel is going to be a major tourist attraction," Fromme added. "We expect about 400,000 riders a year. And because the gondolas are climate controlled, the SkyWheel can be enjoyed year-round."
Koch Development Managing Director Matthew Stack said that final construction schedules and logistics are being finalized and that construction will start "as soon as possible."
"SkyWheel is very excited with the recent news from the U.S. Army Corps of Engineers," Stack said. "Despite the time to reach this point, we have been confident and committed to Newport. SkyWheel's partnership with The City of Newport, North American Properties and the Newport Aquarium solidifies Newport on the Levee as the premier entertainment destination in the region."
Newport Mayor Jerry Peluso said the SkyWheel will enhance the city's reputation as a top destination, as will the new $40 million music venue planned west of the Levee at the Ovation site near the confluence of the Ohio and Licking Rivers.
"After being entertained at Newport's world class indoor-outdoor music venue, visitors can take a relaxing, 360-degree experience on the region's huge Newport's SkyWheel and see spectacular panoramic views from both sides of the Ohio River," he said.
And Mayor Peluso said Newport is not fretting competition from SkyStar, an observation wheel on the Cincinnati side of The Ohio River.
The components of the SkyWheel are being constructed in the Netherlands and will be shipped to the port of New Orleans. From there, the pieces of the attraction will be placed on barges and sent up the Mississippi and Ohio Rivers to Newport.
Planning for the SkyWheel comes as North American Properties of Cincinnati has launched a $100 million redevelopment of Newport on the Levee. The Cincinnati-based developer purchased the Levee last year for $100 million.
In 2011, Koch Development developed SkyWheel Myrtle Beach, the first observation wheel of its kind in the United States, in Myrtle Beach, S.C. Koch continues to operate SkyWheel Myrtle Beach – which has become immensely popular with tourists and residents alike. In addition to SkyWheel Newport, Koch operates SkyWheel Panama City Beach in Panama City Beach, Fla.