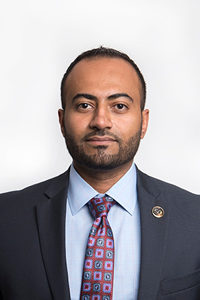 HIGHLAND HEIGHTS, Ky. — Northern Kentucky University's Dr. Abdullah Al-Bahrani has been appointed to the inaugural Kentucky Financial Empowerment Commission Board by Kentucky Treasurer Allison Ball. Dr. Al-Bahrani, along with four others, will focus on increasing financial empowerment and wellbeing across the Commonwealth.
The Financial Empowerment Commission is an innovative method of addressing an important problem facing the Commonwealth and is tasked with developing and implementing plans to improve the financial literacy of all Kentuckians. The Commission will operate without use of taxpayer dollars because of a partnership Treasurer Ball reached with Kentucky credit unions. Dr. Al-Bahrani's appointment follows a new law giving the State Treasurer authority to designate members to the statewide board.
"I am proud of the selections I have made for the Financial Empowerment Commission Board," said Treasurer Ball. "These appointees are highly qualified and each bring a unique perspective to the Financial Empowerment Commission. I look forward to leading the efforts of the entire Board as we work to increase financial empowerment across the Commonwealth."
Dr. Al-Bahrani is the director of the Center for Economic Education (CEE) and an associate professor of Economics in the Haile/US Bank College of Business at NKU. His focus on economic education has earned him the Award for Excellence in Teaching and Instruction and the Dean's Citation for Outstanding Teaching. Dr. Al-Bahrani's work focuses on finding solutions by identifying the reasons behind the financial wealth gap and analyzing financial literacy education programs to help close the gap.
"Kentucky has made a commitment to increase the financial well-being of its citizens," said Dr. Al-Bahrani. "The creation of the board reflects the important role education will play in preparing Kentuckians for their financial futures."
Treasurer Ball launched HB 132 in 2018, requiring a financial literacy course or program for high school graduation. Dr. Al-Bahrani and CEE created an Economics and Financial Literacy Education Micro-Credential to address the new standard. CEE's micro-credential provides educators with the content and methods required to teach economics and personal finance to K-12 students. The micro-credential also allows high school students to earn college credits and meet the mandate. NKU is the only university in Kentucky offering this education.
For information about participating in the Economics and Financial Literacy Education Micro-Credential visit its website.