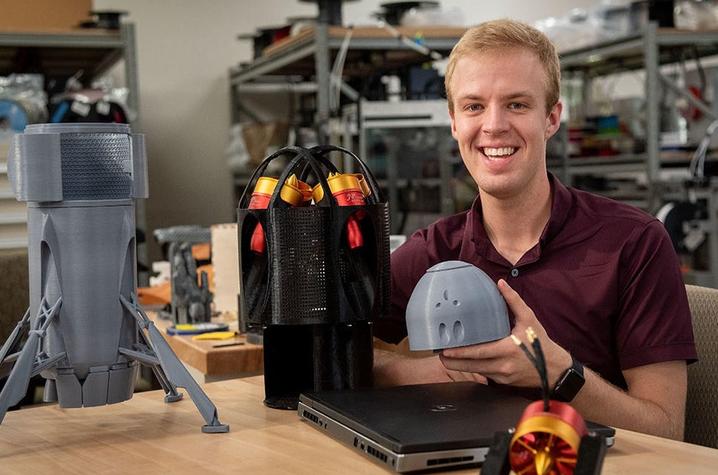 By Lindsey Piercy and Kel Hahn, UK Now
LEXINGTON, Ky. — Laying the groundwork for a new era of space exploration — that's exactly how James Tyler Nichols, a graduate student at the University of Kentucky, is spending his summer.
Nichols is one of four UK students, from a total of 16, who were selected for the highly competitive NASA Academy at NASA Langley Research Center. The academy is an intense multidisciplinary research project that requires significant commitment.
"My experience at NASA has been very different from what I expected. My team accepted the responsibility to design, test and manufacture our own vehicles," Nichols said. "We sought guidance from experts across the center, but we took ownership in every phase of the project making it truly our own."
Nichols, who recently graduated from the UK College of Engineering with bachelor's degrees in mechanical engineering and biosystems engineering, was featured by NASA for his excellent work as an intern. The recognition came as part of NASA's National Intern Day celebration.
"UK aerospace students continue to be selected for amazing internship opportunities, like NASA Academy, and then distinguish themselves once there," Suzanne Weaver Smith, professor in the Department of Mechanical Engineering and director of the NASA Kentucky Space Grant and EPSCoR Programs, said. "Tyler's exceptional contributions and leadership are one example. We are proud of his accomplishments."
At NASA Academy, interns are presented with a realistic problem in aeronautics or aerospace and they must solve the problem using available resources. The team reports to a technical advisory committee composed of NASA experts, which meets weekly to learn about the team's progress, take questions and make suggestions.
According to NASA, Nichols is interning as a research associate at the Langley Research Center in Hampton, Virginia. His project involves demonstrating a lift off and landing system for a new space rocket concept known as Hercules. Together, Nichols and his team are designing the rocket, studying the systems of the spacecraft and building the necessary parts. To accomplish this task, they are using 3D printers, electrical components, powerful batteries and high-powered fans. The ultimate goal is to prove that a small-scale version of Hercules can lift off, hover, move around and land safely. A successful demonstration will help NASA further develop the large-scale concept.
"Being a part of the NASA Academy has also allowed me to make lasting connections with many experts in the aerospace field, as well as create lifelong bonds with my peers."
Nichols' said his coursework at UK and his experience on the Kentucky Re-entry Universal Payload System (KRUPS) project prepared him for this incredible opportunity and the challenges he's faced.
"I was able to call upon my knowledge from my engineering and aerospace courses for the design and analysis of our vehicle. While working on KRUPS, I gained experience in manufacturing, integration and experimentation in a research setting — all of which proved to be valuable skills that I've used during my time at Langley."
Fellow academy members from UK — Ethan Howell, Mingping Zheng and Rayna Weibrecht — are also working on Hercules.
The NASA Kentucky Space Grant has provided support for aspects of Nichols' internship and the KRUPS spacecraft project.
Starting this fall, Nichols will begin graduate studies in mechanical engineering.