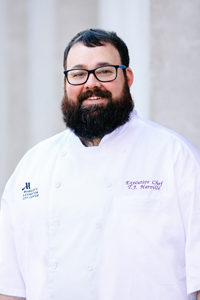 LEXINGTON, Ky. — The Lexington Marriott City Center Hotels is pleased to announce that TJ Harville has been named executive chef of the Lexington Marriott City Center and Residence Inn Lexington City Center. Harville will be creating the menus and guiding the culinary team for the greatroom restaurant, rooftop restaurant, and the meeting and events of the hotels.
"We are excited to have Chef TJ leading the culinary vision at City Center," said Ricky Carpentieri, director of Food and Beverage for the hotels. "Being a Kentucky local, he has a huge passion for moving the area forward in the "foodie" world. His ability to lead and mentor young cooks into future chefs will not only be amazing for our hotel, but for the future of the Lexington area."
Born and raised in Winchester, Ky; Harville discovered his passion for cooking at a young age, working with his mother in the kitchen to help her prepare food for her job as a caterer. After earning a culinary degree at Le Cordon Bleu in Chicago, Harville went on to work in Chicago at restaurants such as Gemini Bistro, the James Beard Award-winning Boka Restaurant Group and the three-Michelin-starred Alinea. In 2017, he accepted his first executive chef position at the Hyatt Regency Lexington.
Skilled in French Cuisine, Menu Development, Cheese, Culinary Management, and Molecular Gastronomy, Harville brings his vast knowledge and experience of working in the hospitality industry to the city center hotels.