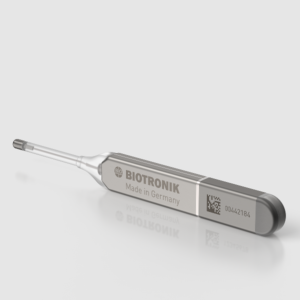 FRANKFORT, Ky. — Frankfort Regional Medical Center is the first hospital in Kentucky to implant the newest injectable cardiac monitor (ICM) – the Biomonitor III from Biotronik. Marty Denny, MD, interventional cardiologist, performed the procedure. The monitor is designed to document suspected arrhythmia or unexplained syncope with increased clarity, enabling fast diagnosis and appropriate treatment.
"This device maintains exceptional functionality in detecting arrhythmia and its reduced size and unique delivery tool simplifies the injection procedure," said Marty Denny, MD. "Patients can count on it to deliver timely and accurate data to identify potentially life-threatening cardiac arrhythmias faster."
Early detection of arrhythmia through ICMs enables physician intervention before adverse outcomes occur. Atrial fibrillation (AF), the most common type of arrhythmia and a leading risk factor for stroke, contributes to more than 130,000 deaths each year. The death rate from AF has risen for more than two decades, although up to 80% of strokes in people with AF can be prevented.
This monitor is 60% smaller than its predecessor and comes preloaded in an injection tool with no assembly required, significantly simplifying the insertion process. The single-piece injection tool is designed for ease-of-use in a variety of clinical settings. The monitor supports reduced case times and lower procedural costs and also offers increased signal quality, helping to improve the accuracy of arrhythmia detection and diagnosis.