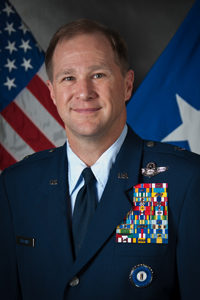 FRANKFORT, Ky. — Gov. Matt Bevin has appointed retired Brigadier General Steven Bullard, of Crestwood, as executive director of the Kentucky Commission on Military Affairs (KCMA), effective Aug. 16. This post was previously held by Colonel Blaine Hedges, who served in that role from November 2016 through July 2019.
"We are pleased today to announce the appointment of retired Brig. Gen. Steven Bullard as the next Executive Director for the Kentucky Commission on Military Affairs," said Gov. Bevin. "Brig. Gen. Bullard has a long and distinguished career of service to our nation and our Commonwealth and will be a tremendous asset in this new role. Under his leadership, I am confident that we will build upon the strong momentum achieved over the past three years by Col. Hedges and the KCMA team, as we advance our bold mission to make Kentucky the most military-friendly state in America."
Bullard served in the U.S. military for 33 years, with both Air National Guard and active duty Air Force assignments. During his career, he participated in Operations Desert Shield, Provide Promise, Restore Hope, Joint Endeavor, Joint Forge, Southern Watch, Bright Star, Coronet Oak, Noble Eagle, Enduring Freedom, and Iraqi Freedom. Bullard held multiple leadership and staff positions, including: director of Mobility Forces and Joint Air Component Coordination Element (JACCE) staff for the Commander, 7th Air Force, Osan Air Base, South Korea; NATO International Security Assistance Force (ISAF) Senior Airfield Authority of Kandahar Air Field, Afghanistan; and chief of Operations for the Joint Intelligence and Operations Center, Headquarters, U.S. Central Command, MacDill Air Force Base, Florida.
Most recently, Bullard served as chief of staff for the Kentucky Air National Guard and deputy director of the Joint Staff of the Kentucky National Guard. He also has extensive experience in legislative affairs, representing the military and the manufacturing industry.
"I look forward to supporting Gov. Bevin, our Congressional delegation, the General Assembly and all of Kentucky in our joint effort to make the Commonwealth our nation's most military- and veteran-friendly state," said Bullard. "Working together we can protect and grow Kentucky's military installations and defense industry and create opportunities for veterans and their families to excel here at home. It's an honor to be a part of that effort."
During the Bevin administration, KCMA has focused on supporting Kentucky's military installations, expanding the local defense industry, helping service members transition from the military into civilian jobs in Kentucky, and making Kentucky the most military-friendly state in the nation.
These efforts have resulted in a number of recent successes, including:
Recognition by the Department of Defense that Fort Knox is energy resilient and secure. (Fort Knox can produce natural gas for its own use and was the first Department of Defense installation to become energy independent.),
More than $1 billion in defense spending in Kentucky in the National Defense Authorization Act for fiscal year 2019,
Expansion of the defense and aerospace industry in Kentucky, leading to an increase of more than $2 billion in defense contracts,
The establishment of the Knox Regional Development Alliance and the Fort Campbell Strong Defense Alliance to support those installations through the local communities,
Expansion of career skill programs and educational partnerships at Fort Campbell and Fort Knox, helping service members get jobs when exiting the military,
Nearly $10 million in U.S. Department of Labor grants to assist the job transition of service members, and
17 military-friendly bills enacted by the Kentucky General Assembly, including reciprocity for occupational licenses held by service members, veterans, and their spouses.
KCMA is an independent agency attached to the Office of the Governor. It was established by KRS 154.12-203 in 1996, and is the lead advocate for military installations and the related defense economy in Kentucky. For more than two decades, KCMA has directly managed Base Realignment and Closure (BRAC), set conditions for economic growth near Kentucky military installations and provided insight to all levels of government regarding the military and veterans.
For more information about KCMA, visit https://KCMA.ky.gov.