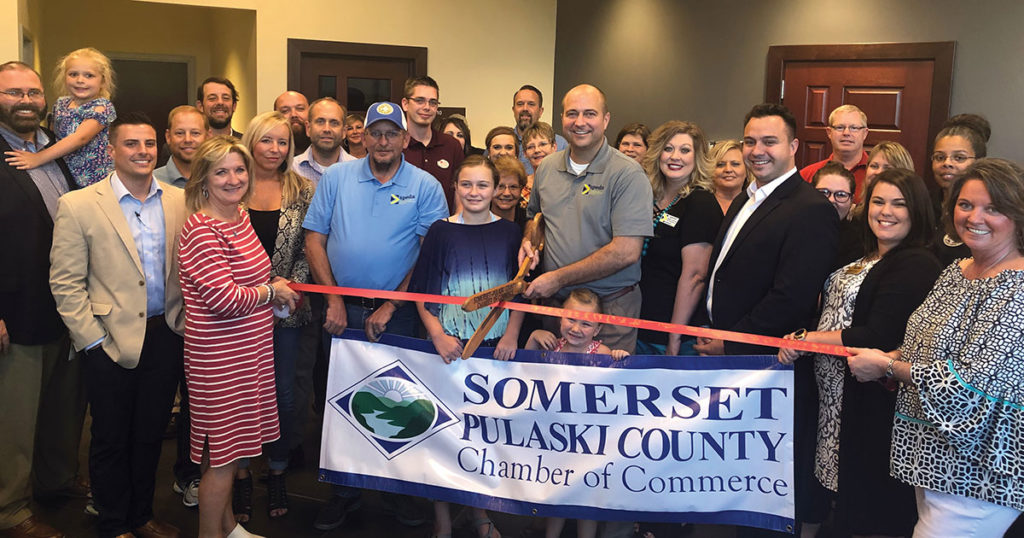 SOMERSET, Ky. — The Somerset-Pulaski Economic Development Authority (SPEDA) staff and board members welcomed more than 100 community members at an open house and ribbon-cutting Thursday, Aug. 29 — introducing them to their new office space at the City of Somerset Energy Center and to their mission and purpose.
In partnership with the Somerset-Pulaski County Chamber of Commerce and its Business After Hours series, SPEDA staff and board members shared with attendees the progress the organization has made in just seven short months of existence. In addition to hearing about the organization's new brand, programs and initiatives, community members had the opportunity to walk through SPEDA's third-floor office space, which includes a hallway and conference room lined with dynamic photos of the community.
"It is an exciting day for the staff and board of directors at SPEDA," said Chris Girdler, president and CEO of the organization. "We have worked tirelessly to develop a new presence for our organization and our office complex reflects that in its entirety."
Girdler highlighted the cost savings to taxpayers — more than $30,000 annually in rent and utilities — by having office space in the energy center, which enables the organization to invest that money back into the community through programs like SPEDA's soft-skills training and mini-grant programs.
"In addition, the glass walls in our office are representative of the transparency in which we plan on conducting ourselves as well as the synergy we hope to create within our community," Girdler said.
SPEDA staff and board members were energized by the large crowd, Girdler said, and are appreciative of the cooperative spirit that is being fostered within the community.
"Unity and collaboration are important to a strong, local economy," he said. "We will continue to work tirelessly to promote a welcoming environment and develop our community."